A Local's Guide to St. Thomas: Where to Stay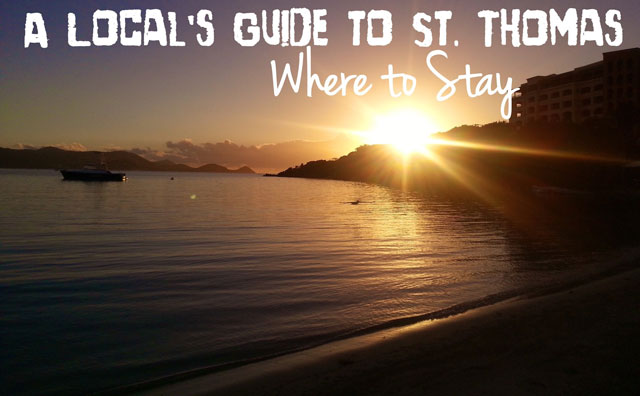 Options for where to stay on your vacation can determine how long you'll visit your destination or even whether you'll visit the destination at all. You want a place that will feel like a home away from home when you're travelling. When planning a St. Thomas vacation, you'll most likely start with searching for island hotels, resorts, or rentals, and fortunately your options are plentiful to find a place to lay your head that fits your specific needs and desires. To simplify your search, I've put together a local guide on where to stay in St. Thomas based on the type of temporary home you're looking for:
St. Thomas Airport Hotels- If you're looking to stay in St. Thomas for a short period of time and are searching for hotels near the airport, these locations are what you're searching for. Don't get the wrong idea though. These aren't the enclosed, plain Jane hotels you're used to at airport locations. Both of these hotels are located on one of the most beautiful beaches in St. Thomas, Lindbergh Bay.

St. Thomas Island Resorts & Larger Hotels- St. Thomas has many notable brands throughout the island if you're looking for a familiar name or to maintain brand loyalty with certain hotels. There are also larger hotel properties that aren't brand affiliated that will offer the familiar hotel feel along with the million dollar views St. Thomas resorts have to offer.
All Inclusive- St. Thomas has a couple of options for all inclusive resorts offering packages for unlimited dining and drinking. Both of these St. Thomas resorts offer all-inclusive options, but these packages are not required for lodging.
Smaller Hotels/Guest Houses- If you're looking for a more intimate setting with fewer guests, St. Thomas has island boutique hotels and guest houses to meet your needs. These properties will provide a more local experience for your St. Thomas vacation.
Timeshares- For larger units featuring multiple bedrooms or kitchen amenities, St. Thomas has many timeshare units available for rent on your vacation. If you're part of a timeshare ownership, check to see if one of the St. Thomas resorts is available for exchange. Empty units may also be available for rent to non-owners through the individual properties or online.
St. Thomas Villas and Vacation Rentals- Many condominium complexes and residential homeowners will rent out homes and villas. For those wanting a full kitchen or multi-bedroom lodging, these St. Thomas vacation rentals will fit the bill. Villa complexes will feature resort amenities but are more private than a large resort setting. Note that St. Thomas private villas or vacation home rentals may require a rental car to reach the location.
Wherever you decide to stay, you'll find St. Thomas to be a welcoming and hospitable second home for your vacation, and you'll see why islanders like myself are so proud to call the island home. For more tips and local insight on planning your St. Thomas vacation, see our Know Before You Go Guide.
Welcome Home,
Amit