Crystal Cove and Sapphire Village: Area Guide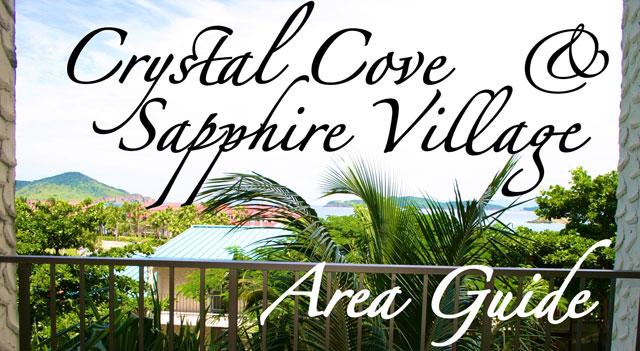 Our guests at Crystal Cove Villas St Thomas and Sapphire Village St Thomas will find there's a lot of charm to the area surrounding our St. Thomas properties. From picture-perfect Sapphire Beach to the lively streets of Red Hook, Crystal Cove and Sapphire Village are conveniently located near some of the top things to do in St. Thomas. To give you an idea of the benefits of choosing Paradise Properties for your St. Thomas vacation and to make planning your stay with us even easier, we've put together an area guide for your convenience.

Sapphire- Both properties, Crystal Cove Villas and Sapphire Village, feature views and access to beautiful Sapphire Beach, one of the best beaches in St. Thomas. Sapphire Beach has watersport and beach chair rentals and beachside food and drink service. Encounter wildlife on your vacation by feeding the white-cheeked pintails that live on the beach, spotting an iguana camouflaged in a tree, or enjoy St. Thomas snorkeling among the schools of parrotfish in Sapphire's crystal clear waters. Venture out to Sapphire Point for views of unique rock formations and silhouettes of St. John and the neighboring British Virgin Islands. Sapphire Marina is located near Sapphire Village for convenient access to some St. Thomas Boating or fishing excursion pickups. There's plenty of paradise to be experienced right on property for Crystal Cove and Sapphire Village guests.

Red Hook- Crystal Cove and Sapphire Village are located just one mile away from Red Hook, about a 15 minute walk. We are also conveniently located along the local safari bus route which will bring you to certain areas of the island, including Red Hook, for just $1. Red Hook is home to many of St. Thomas' Popular Restaurants and is one of the few areas of the island with nightlife. Red Hook also features a market, drugstore, bank, and postal services for any needs you may encounter in St. Thomas. Marine shops, souvenirs, jewelry stores, and even a fish spa are located for daily activity. The major ferry terminal in St. Thomas is also located in Red Hook, giving you access to St. John and all of the British Virgin Islands in just a short walk from our properties.
Things to Do- Through our activity and transportation booking service, CaribbaConnect, you can experience all the top things to do in St. Thomas with just one click. Visit our booking site to hit the many St. Thomas attractions and excursions available for Crystal Cove and Sapphire Village guests.


Dining- Sapphire Bar and Grill is located right in Sapphire Village, serving lunch and dinner daily. Visit the Banana Cabana right on Sapphire Beach for a delicious frozen cocktail or light lunch. If you're looking to venture out to one of the many dining areas on island, use our handy dining guides to help you choose the restaurant that's sure to hit the spot.
At Paradise Properties, we want our guests to feel at home on the island and to experience the best of St. Thomas. At Crystal Cove St Thomas and Sapphire Village Resort St Thomas, we are happy to direct our guests to any St. Thomas attractions or excursions that you may be interested in, but our centralized location makes it easy to enjoy top things to do in St. Thomas with just a short walk or taxi ride, no searching necessary. We look forward to your visit to St. Thomas!
Alice Tuitt
General Manager
Paradise Properties

CaribbaConnect Mentioned Excursions:
Full Day Sail to Jost Van Dyke
Mangrove Lagoon and Cas Cay Kayak, Hike, and Snorkel Ecotour