A Local's Guide to St. Thomas Sailing and Boating Tours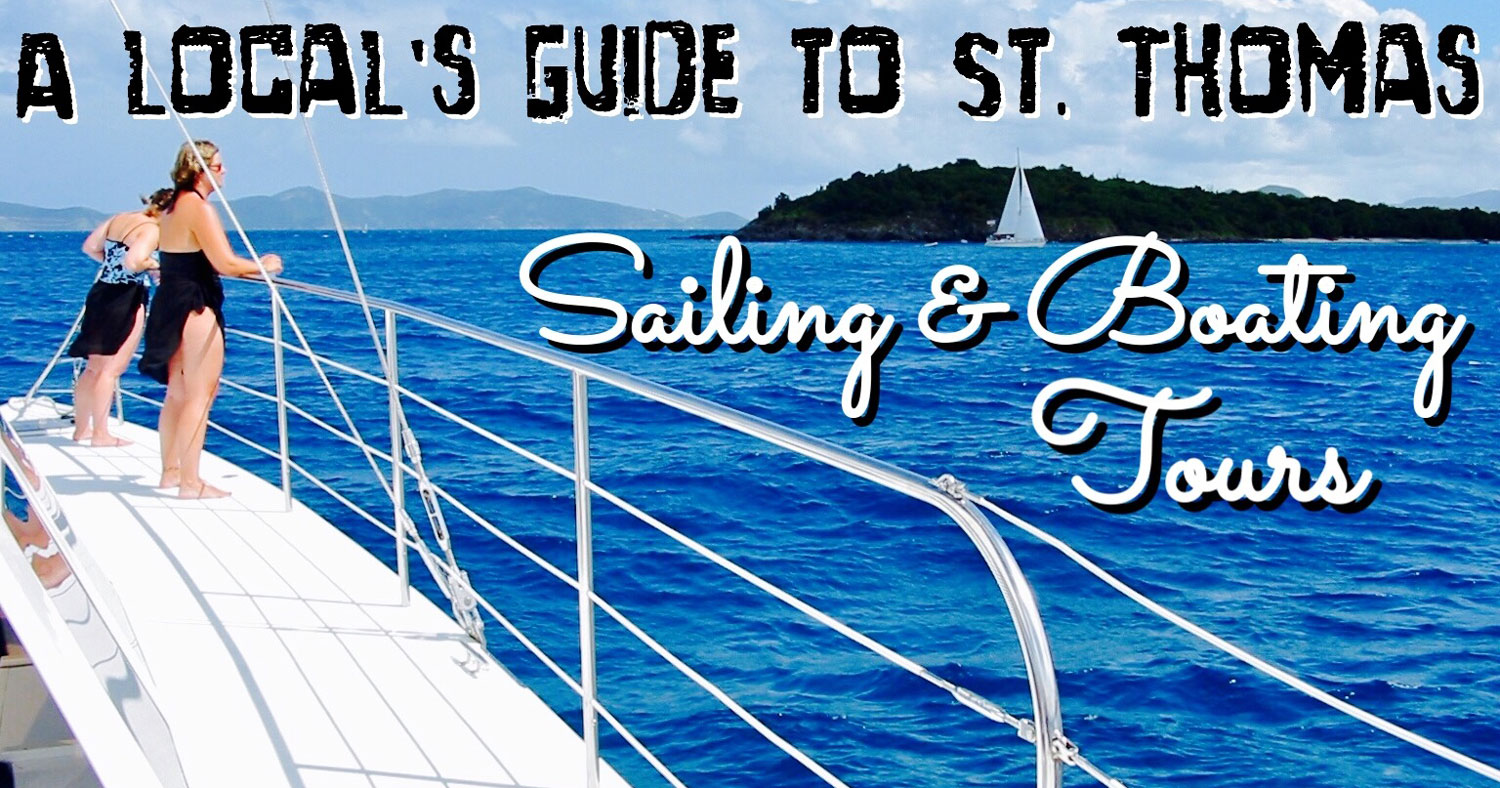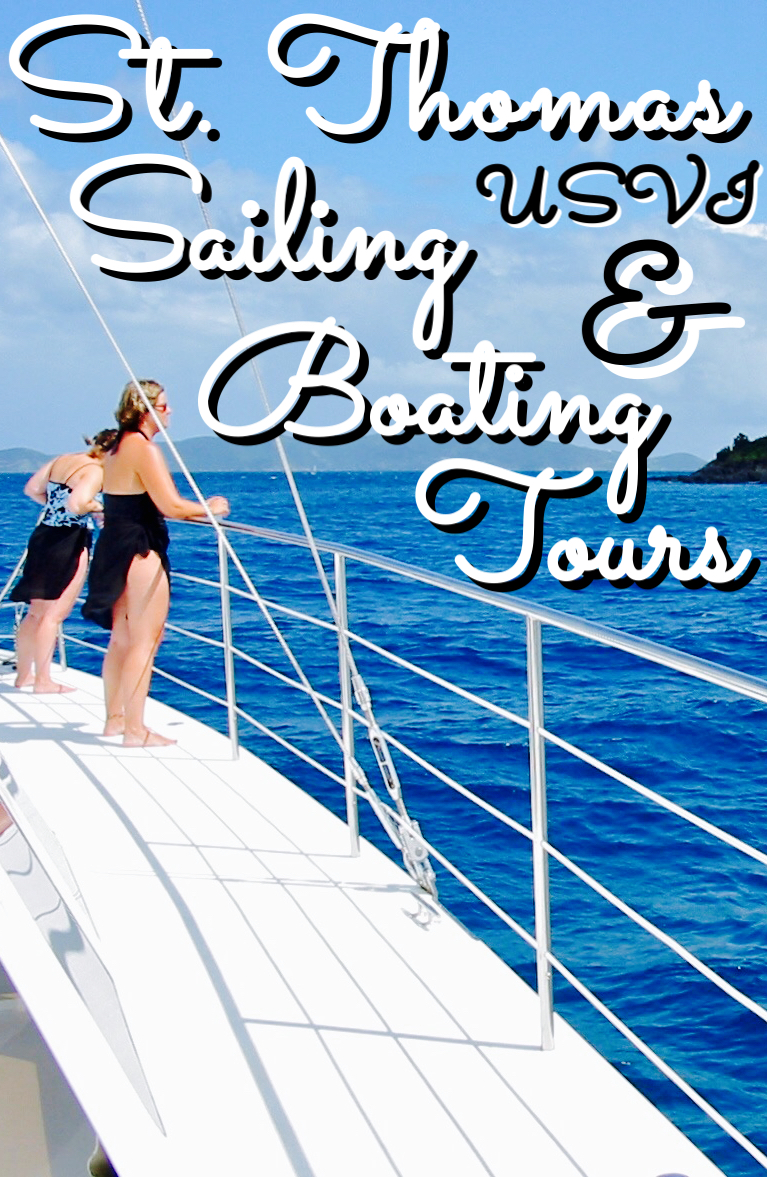 When it comes to sailing and boating, the captain and crew run the ship. This is why we book sailing and boating tours because we need experts to navigate the waters while we relax and enjoy the ride. St. Thomas Sailing and Boating Charters are a little different. They know you need more than just experts for an awesome day on the water: you need music, snacks, and most of all, an open bar!
This is how we do all of our sailing and boating tours in St. Thomas! So it's no wonder why a sea day is one of the top things to do in St. Thomas. There are many ways to live it up at sea, and I'm here to help you choose the perfect party:
Half-Day Sails- For those looking to spend only a few hours on the water or trying to do multiple St. Thomas excursions in a day, a half-day sail is what you're after. With access to incredible St. Thomas snorkeling spots and all the gear included, you have everything you need for a half-day adventure at sea. St. Thomas Half-Day Sails start at 3 hours on a luxury catamaran including light breakfast or snacks depending on the time of day you're hitting the water and can be extended to a 4 hour sail with a Half-Day Sail with Lunch to include a full meal. Looking for some privacy? A Private Half Day Sail with Sunset Option, gives you and your party a whole sailboat to yourselves, complete with open bar and a stop at the floating pizzeria at sea, Pizza Pi. If you're visiting off a cruise ship or worried about not having enough hours in the day to experience everything St. Thomas has to offer, a half-day sail excursion will prove that a few hours is all your need for the sailing experience of a lifetime!
Full Day Sails- Are you a sailor at heart? Is sailing the Caribbean sea on your bucket list? Then you'll want to soak up a full day of sun and salty sea air. For travellers without a passport, a St. John Full Day Sail is perfect for you. Set sail to St. Thomas' sister island on a catamaran with expansive decks, shaded awning, and a fresh shower for maximum comfort on your day at sea. Hit the best St. John snorkeling spots with gear included, and swim to the pristine shores of remote National Park beaches. With breakfast, lunch, and a very open bar, you're ready for your dream day sailing the Caribbean Sea. Enjoy a 37ft sailboat alone with your family or friends on a Private All-Inclusive Full Day Sail through the USVI. On your private St. Thomas sailing tour, you'll enjoy a shrimp and lobster boil at sea, visit multiple spots giving you the opportunity to enjoy the best snorkeling in St Thomas and surrounding bays. You can also opt for a stop at the only floating pizzeria at sea on a Private Full Day USVI Sail - Pizza Pi VI Lunch Stop, or add some romance to your day trip on a Private Full Day USVI Sail with Sunset. For passport ready travellers, a Full Day Sailing Tours to Jost Van Dyke, BVI is an excursion you won't want to miss. Enjoy breakfast at sea and snorkel stops as you journey to the island of Jost Van Dyke. Have lunch at the well-known Foxy's Tamarind Bar & Restaurant and score some BVI souvenirs at the local shops. Then set sail for one of the top Virgin Islands beaches, White Bay. Enjoy a world-famous painkiller from Soggy Dollar Bar or simply soak up the sun and sea. On your journey back to St. Thomas, it's smooth sailing as you savor the sweet music, open bar, and delicious cookies on board. Make your vacation extra memorable for yourself and 5 others on a Private Day Sail to Jost Van Dyke. This is one trip where you won't mind the journey back!
Sunset Sails- The perfect evening excursion on your visit in St. Thomas is a Sunset Cocktail Sailing Tours in St. Thomas. With hors d'oeuvres, open bar, Caribbean music, and a million dollar view, this sail is of a different class, a luxurious one. At an hour and a half, it's the perfect pre-dinner excursion to maximize your St. Thomas experience. Book a Private Half Day Sail with Sunset for a romantic event or make it fun for the family with a stop at the Pizza Pi boat. There's no better way to experience that perfect St. Thomas sunset than from a sail!
Powerboat Charters- The captain and crew are in charge of the vessel, but on a St. Thomas Boat Rental, you're in charge of the journey. With 8 hours at sea and all your gear included, you pick the stops and snorkel spots for yourself and up to 11 others on a 35ft Boat Charter. The USVI waters surrounding St. Thomas and St. John have plenty of unique snorkeling spots and remote beaches to experience without a passport that only a vessel can take you to. Customize a Half Day Powerboat Charter to hit the highlights of the U.S. Virgin Islands in a 32ft powerboat. If you and your guests are passport ready, the entire Virgin Islands are at your disposal! Sample the best of the British Virgin Islands on a Full Day Powerboat Charter to hit BVI favorites. Large parties can take out a 44ft Power Catamaran for up to 32 passengers for a party at sea! Customize your itinerary to include the best of the USVI, BVI, or a little of both! Experience the secluded side and hidden beauty of the Virgin Islands on a St Thomas Boat Rental.
Passport or no passport, all day or an hour and a half, any time spent at sea on a St. Thomas sailing or boat charter is an extraordinary experience you won't forget. Pick your perfect seafaring excursion or try them all! Don't miss an opportunity to ride the Caribbean Sea on your visit to St. Thomas.
Be sure to check out our blog article on A Local's Guide to St. Thomas Boating and Sailing Destinations, and visit our Boating & Sailing page to book the best boating and sailing excursions on St. Thomas! If you have any questions about the best sailing and boating tours in St. Thomas or any inquiries about the island, call or e-mail us for authentic local insight!
Smooth Sailing,
Nishant

CaribbaConnect Sailing and Boating Excursions:
St. Thomas Half-Day Snorkel and Sail Tour
St. Thomas Half-Day Snorkel and Sail with Lunch
U.S. Virgin Islands Private All-Inclusive Full Day Sail
Private Full Day USVI Sail with Sunset - Caribbean Lobster & Premium Open Bar
Private Full Day USVI Sail - Pizza Pi VI Lunch Stop & Premium Open Bar
Private Full Day USVI Sail with Sunset - Pizza Pi VI Dinner Stop & Premium Open Bar
Jost Van Dyke, BVI Full Day Sail
Jost Van Dyke, BVI Private Day Sail
St. Thomas Sunset Cocktail Sail
Private Half Day Sail with Sunset Option - Pizza Pi VI Stop & Premium Open Bar
Full Day 35ft Powerboat Charter
Full Day 32ft Powerboat Charter