St Thomas: Havensight Restaurant Guide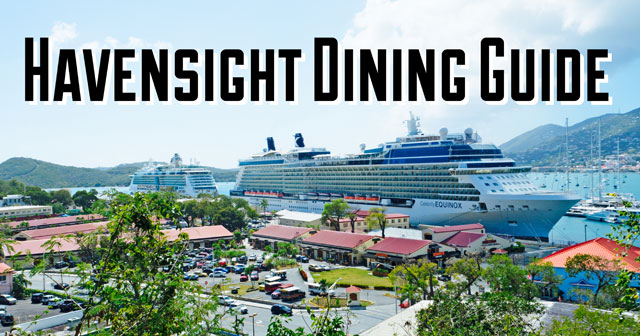 When I first visited St. Thomas years ago on vacation, I came off of a cruise ship. Havensight Mall was the first encounter I had with the island. I remember the local music playing and enjoying the Caribbean breeze as I browsed the open shops before boarding a safari bus to the beach. I fell in love with St. Thomas then and there, and that's why I've made the island my home and have stayed throughout the years.
If you're coming to St. Thomas off on a cruise vacation, Havensight Mall will likely be your warm welcome to the island too. A visit to the Havensight Mall is one of the top things to do in St. Thomas for cruisers as it features souvenir shops, jewelry stores, and many restaurants for breakfast and lunch. Extended visitors can also enjoy a great dinner in Havensight or hop between the many pubs in the area. Let me be your local guide through the Havensight Mall to get the cuisine you desire and the best eats in the area:
Havensight Mall- Dining within the shopping center
Beni Iguana's- (L,D) Sushi
Delly Deck- (B,L) Sandwiches & Salads
Gourmet Gallery- (B,L,D) Market with salad station and grab-n-go
Great Wall- (L,D) Chinese
Rum Hut- (L,D) Pizza & Bar
Senior Frogs- (L,D) Bar & Grill
The Smoking Rooster- (B,L,D) BBQ & Sports Bar, Brunch Sat & Sun
Wendy's- (L,D) Fast Food


Across the Street- A short walk across from Havensight Mall
Barefoot Buddha- (B,L,D) Sandwiches & Salads
Benito's Burritos- (L,D) Mexican
Captain's Terrace- (L,D) BBQ, Caribbean, Dinner Fri & Sat
China King- (L,D) Chinese
Cravin' Crabs- (D) Seafood
Hooters- (L,D) Bar & Grill
Paradise Point- (L,D) Bar & Grill
Pizza Amore- (L,D) Pizza
Subway- (L,D) Sandwiches & Salads
The Dog House Pub- (B,L,D) Sports Bar & Grill


Yacht Haven Grande- A short walkway from Havensight Mall
Bad Ass Coffee- (B,L) Coffee, Baked Goods, Sandwiches
Da Lime in de Coconut- Rum Bar
Fat Turtle- (L,D) Bar & Grill
Fresh Bistro- (L,D) Mediterranean
Grande Cru- (D) Fusion


Havensight Mall is a great area for Shopping and marvelling at the massive ships during the day while also offering after-hours eats and boozy treats. The Havensight Mall is also equipped with a market, postal service, drug store, and bank for any services you may need. If you've rented a car in St. Thomas or taken a taxi to Havensight Mall, each of these spots are within walking distance of each other, making it easy to explore the area, sample the restaurants, and try a cocktail or two. You'll want to include a visit to Havensight Mall on your St. Thomas vacation for a great meal! To learn more about dining in St. Thomas, make sure you visit our Locals Guide to St Thomas Restaurants.
Bon Apetit,
Megan