Sugar Bay Resort and Spa: Area Guide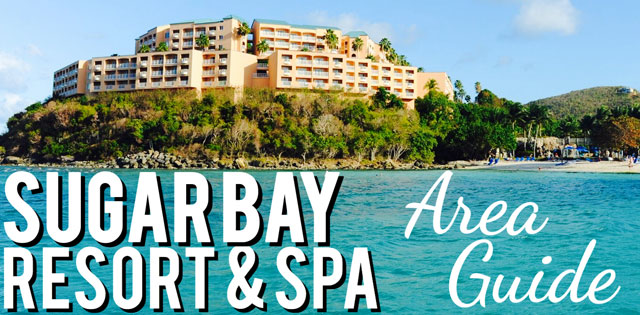 Property Overview

Imagine world class views of neighboring islands from your room, taking a dip in our waterfall pool, and lounging at the beach in the crystal Caribbean sea all while enjoying your favorite tropical cocktails on repeat. You're on vacation, and you deserve paradise in all aspects! Sugar Bay Resort and Spa, previously known as Dreams Sugar Bay St Thomas and Wyndham Sugar Bay Beach Resort and Spa, is the all inclusive resort to vacation to in St. Thomas. With incredible dining, a top rated luxury spa, and plentiful activities such as watersports, snorkeling, and even iguana feedings, Sugar Bay St Thomas has something special for each member of your family to create a vacation you'll never forget! And because we want our guests to experience the very best of the island, our Sugar Bay Resort guide will provide all area attractions and the excursions and adventures that await you in St. Thomas.

- Location & Transportation
- Places to Explore
- Things to Do
- Dining
- Beauty & Spa

Save yourself from the hassles associated with shared airport transfers such as waiting for the airport taxis to fill up, crowded vehicles, and multiple stops to get to your destination. Delight in a seamless island arrival with affordable, convenient, and friendly airport transportation that begins with a personal driver waiting for you at baggage claim. Non-stop direct transfers are available from the St. Thomas airport right to Sugar Bay Resort & Spa, and a stop at the market or convenience store is available upon request. Behold the superior experience of personalized service with our Private Airport Transportation.

-- Back to Top Menu


Places to Explore

Red Hook- Located just a 5 minute drive away from Sugar Bay Resort, you'll find shopping, dining, and local conveniences in the Red Hook area of St. Thomas. Pick up some souvenir shirts or the world-famous hook bracelet of the USVI on a day of shopping in Red Hook, or enjoy a fantastic dinner and watch the streets come alive with live music and late night happy hours after dark.The Red Hook area is perfectly safe to walk around with your family after dinner, and it includes a drug store, doctor's office, postal service, and convenience store if you're in need of services during your vacation. You'll also find ferry service to St. John and the British Virgin Islands at the Red Hook ferry terminal, making visits to neighboring islands easy and convenient from Sugar Bay Resort St Thomas.
East End Beaches- The on-site beach at St Thomas Sugar Bay Resort is the picture of Caribbean perfection featuring watersport activities and beachside lounging, while our location on the East End of the island puts you just minutes away from some of the best beaches in St. Thomas. Coki Beach is known as one of the best spots for snorkeling in St. Thomas, where you can take the kids to feed the fish and watch them nibble as you snorkel. Coki is also equipped with beachfront dining, watersport rentals, and beach chairs. One of the most pristine and undeveloped beaches in St. Thomas is Lindquist Beach (Smith Bay Park) located just a few minutes drive away from Sugar Bay Resort. Lindquist boasts amazing views of neighboring cays and soft white sand. Sapphire Beach gets its name from it's bright blue waters. At Sapphire you'll find vibrant coral and abundant marine life under the sea and beach chairs, watersport rentals, and food and drink service on shore. Experience the best of St. Thomas beaches on-site and nearby Sugar Bay Resort and Spa.
Tutu- Just 10 minutes away from Sugar Bay Resort and Spa is the bustling area of St. Thomas where all the locals shop, Tutu. Tutu contains grocery stores, drug stores, fast food, St. Thomas' movie theater, and the local Tutu Park Mall. Tillett Gardens is the gem of Tutu featuring the Pistarckle Theater for plays and performance art, shops selling local treasures, and one of the best burgers on island. Tutu is the place to go for stocking up a picnic lunch for the beach or catching live music at night in Tillett Gardens.

-- Back to Top Menu



The Full Day St. John Sail featured above leaves directly from Sugar Bay Resort & Spa. To view this profile, click here.
Things to Do
Through our activity and transportation booking service, CaribbaConnect, you can experience all the top things to do in St. Thomas with just one click. Visit our booking site to hit the many St. Thomas attractions and excursions available for Sugar Bay Resort and Spa guests.


-- Back to Top Menu




Dining
Enjoy breakfast, lunch, dinner, and cocktails from our four on-site restaurants and bars. With chef's specialties, sushi, a sports lounge, and swim-up bar, there's always a fabulous dining experience to be had at Sugar Bay Resort and Spa, and our all inclusive packages cover your decadent breakfasts, lunches, and dinners, and all the bottomless cocktails you'll enjoy. If you're looking to venture out to one of the many dining areas on island, use our handy dining guides to help you choose the restaurant that's sure to hit the spot.
-- Back to Top Menu




Beauty & Spa
Your Caribbean escape wouldn't be complete without a little bit of pampering. Our highly rated spa offers a wide range of services to help you relax, stay in shape, and go home feeling refreshed.
| | |
| --- | --- |
| • Massages | • Body Wraps |
| • Makeup Services | • Manicures |
| • Fitness Classes | • Pedicures |
| • Facials | |
If you truely want to be pampered, then don't wait and make your reservation now! Click here to see our full spa menu.

-- Back to Top Menu


From the moment you arrive at Sugar Bay Resort and Spa, you'll understand why we were named one of the "Best All Inclusive Resorts in the Caribbean" by USA Today, and with CaribbaConnect, you'll be swept away by the beauty and excitement of St. Thomas. Welcome to the vacation of a lifetime! We'll see you soon.

Ronald Maidens,
General Manager
Sugar Bay Resort and Spa

CaribbaConnect Mentioned Excursions:
Full Day Sail to Jost Van Dyke
Mangrove Lagoon and Cas Cay Kayak, Hike, and Snorkel Ecotour
Public Shopping and Sightseeing Tour