The Marriott Frenchman's Cove Area Guide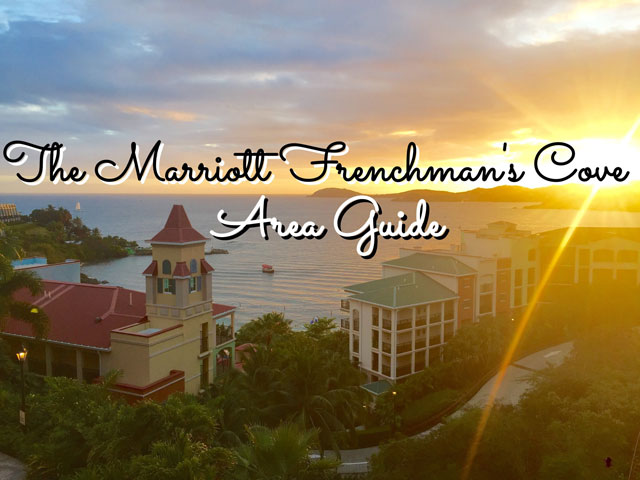 Guests of Marriott's Frenchman's Cove enjoy amenities such as a kids club, downtown water taxi, nightly entertainment and more. Factor in the onsite beach with snorkeling and floating mats and spectacular views of Downtown Charlotte Amalie all day and night, and it's no surprise this Vacation Club stays booked throughout the year. These renowned features keep the Marriott Frenchman's Cove Vacation Club frequented by timeshare owners and first-time visitors alike. Whether you've visited the Marriott Frenchman's Cove every year or are coming for the first time, there's always a new experience to be had in St. Thomas, and I've got your area guide to make sure you don't miss a thing on your St. Thomas vacation:
Beaches- Evening Star Beach is located on the Marriott Frenchman Cove St Thomas. This tranquil bay is always a beautiful sight and is known for it's abundant coral and marine life, making it the ideal location for snorkeling. Additionally, guests of the Frenchman's Cove have convenient access to Morningstar Beach, located at the adjacent Marriott Frenchman's Reef and Morning Star Beach Resort property, which is known for being one of the few beaches in St. Thomas with a regular flow of waves. As a guest at the Frenchmans Cove, you won't want to miss some of the best beaches in the Caribbean found right here in St. Thomas! Discover the best snorkeling spots and the pristine shores and world-famous bays all just a hop, skip, and a jump away from the resort in our Local Guide to St. Thomas: Best Beaches. To get the full St. Thomas beach experience, guests can book a Sightseeing and Beach Stop Tour, which picks up right from the Marriott Frenchman's Cove, to take in the incredible views and see local sites before hitting one of the top beaches on island. Large Parties can book a Private Beach Hopping Tour and sample 3 of the top beaches on island in a private safari bus for an epic beach day for the whole group.
Havensight Mall- Just a 5 minute drive from the resort, Havensight Mall is one of the St. Thomas cruise ports with lots to offer Marriott guests. From jewelry and electronics to apparel and souvenirs, Havensight Mall has stores and selection for all types of shoppers. Havensight Mall and the surrounding area features breakfast, lunch, and dinner options of a variety of cuisines and price ranges. If you're in need of any services or supplies, Havensight has a market, drug store, post office, and bank to accommodate any needs you may have while on vacation. Across the street from Havensight Mall are a variety of restaurants and the Skyride to Paradise Point, a gondola ride up the hills of St. Thomas for a fantastic view of the island. Just a short walk along the water from Havensight, and you'll find the mega yachts in port at Yacht Haven Grande. In addition to some of the world's largest yachts, Yacht Haven features designer stores and waterfront dining options. The Marriott Frenchman's Cove's proximity to Havensight Mall offers convenience for our guests to shop, dine, and catch spectacular views of St. Thomas.
Downtown Charlotte Amalie- From Havensight Mall, guests can enjoy a scenic 15-20 minute walk to Downtown Charlotte Amalie or take a ride through Charlotte Amalie Harbor on our water taxi, departing right from the Marriott Frenchman's Cove dock and dropping off at Main Street. In Downtown Charlotte Amalie, you'll find incredible deals on name brand jewelry and watches and duty free diamonds, gold, and rare gems. Throughout the picturesque alleyways are delicious dining spots, souvenir shops, and local specialty stores. Visit the historic sites and learn about the events and cultures that made St. Thomas the island it is today. Just a short walk from Downtown is the Charlotte Amalie ferry and seaplane terminal where guests catch a ferry to St. John or visit St. Croix for the day on a short seaplane ride. From Downtown Charlotte Amalie, guests can make the short walk to Frenchtown, a local fishing village with a host of great restaurants. The convenient water taxi from the Marriott Frenchman's Cove makes it easy for guests to experience all that Downtown Charlotte Amalie has to offer.
Things to Do- Through our activity and transportation booking service, CaribbaConnect, you can experience all the top things to do in St. Thomas with just one click. Visit our booking site to hit the many St. Thomas attractions and excursions available for Marriott's Frenchman's Cove guests.


Private Transportation- Save yourself from the hassles associated with shared airport transfers such as waiting for the airport taxis to fill up, crowded vehicles, and multiple stops to get to your destination. Delight in a seamless island arrival with affordable, convenient, and friendly airport transportation that begins with a personal driver waiting for you at baggage claim. Non-stop direct transfers are available from the St. Thomas airport right to Frenchman's Cove, and a stop at the market or convenience store is available upon request. Behold the superior experience of personalized service with our Private Airport Transportation.


Sightseeing- Island tours pick up right from the Marriott Frenchman's Cove and are a must for experiencing top St. Thomas attractions. Hit the highlights of island views and photo ops on a St. Thomas Sightseeing Tour or Private Sightseeing Tour. Check out our Local Guide to Exploring St. Thomas for all the ways to see the top sites in St. Thomas.


Dining- The Sunset Cove restaurant located on property of the Marriott Frenchman's Cove serves breakfast, lunch, and dinner. This open-air restaurant features Caribbean and American fare, an extensive cocktail menu, and nightly entertainment. Marriott Frenchmans Cove guests also have convenient access to the onsite restaurants atthe Marriott Frenchman's Reef and Morning Star Beach Resort. In the main tower of the Frenchman's Reef, Aqua Terra serves a breakfast buffet and a dinner menu featuring a variety of options from steak and seafood to pasta and burgers. The Sunset Grille is located near the Frenchman's Reef pool area serving American and Caribbean fare for lunch and dinner. At the Morning Star side of the resort is Coco Joe's, a casual beach bar serving breakfast, lunch, and dinner right along the beach. Havana Blue is the award-winning, fine dining restaurant on Morningstar Beach serving Latin and Pacific fare for dinner. The SandBar is located at the lower level of Havana Blue serving tapas lunch and dinner and brunch on Saturday and Sunday. If you're looking to venture out to one of the many dining areas on island, use our handy dining guides to help you choose the restaurant that's sure to hit the spot.
Recommended Dining Articles:
Havensight Dining Guide- A variety of cuisines, atmospheres, and waterfront views await in with Havensight Mall dining spots!
Downtown Charlotte Amalie Dining Guide - Enjoy Caribbean fare or a meal overlooking Charlotte Amalie Harbor with our local insight to the many Downtown dining spots!
Red Hook Dining Guide - See why Red Hook is the place to be for dinner and nightlife on St. Thomas!
Frenchtown Dining Guide- Indulge in fresh Caribbean seafood in this quaint fishing village!
Northside Dining Guide- Journey to the lush north side of St. Thomas for top-rated restaurants and fantastic island views!
The beauty and excitement of St. Thomas never gets old, which is why so many people visit the island year after year through vacation ownership. The island is always evolving with new adventures to encounter. With the beauty of Marriott's Frenchman's Cove and the exclusive insight from CaribbaConnect, you're sure to have the best vacation you've ever had, whether you've visited St. Thomas 1 time or 100 times! Let us help you experience the beauty, adventure, and excitement of St. Thomas like never before.
Be sure to check out our Excursions page for the best excursions on St. Thomas! If you have any questions about Marriott's Frenchman's Cove or any inquiries about the island, call or e-mail us for authentic local insight!
Welcome to a New St. Thomas,
Nishant

CaribbaConnect Mentioned Excursions:
Full Day Sail to Jost Van Dyke
Mangrove Lagoon and Cas Cay Kayak, Hike, and Snorkel Ecotour
Public Shopping and Sightseeing Tour