St Thomas: Northside Restaurant Guide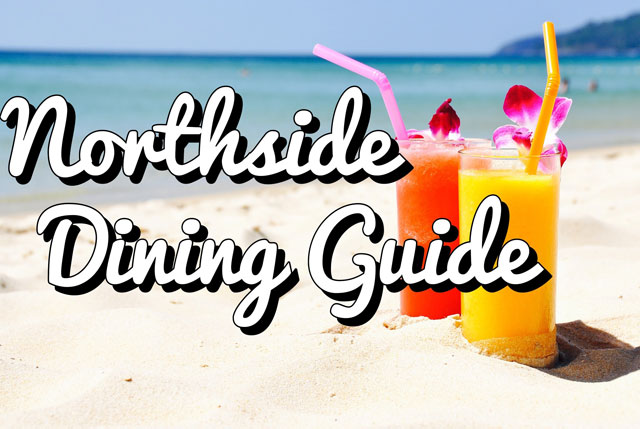 Northside Dining Guide
The Northside of St. Thomas is known for being a quieter side of the island. What it lacks in hustle and bustle, it makes up for with lush foliage, fantastic views of neighboring islands, and off-the-grid beaches. Being more remote and spread out than other areas of the island, the Northside doesn't offer quite the dining selection you'll find at its more heavily trafficked counterparts, but quality outweighs quantity as it features some of the highest rated restaurants in St. Thomas. Whether you're staying in a boutique hotel on the Northside or just looking to experience all it has to offer, I've got your dining guide to satisfy your cravings!
Brunch- Breakfast & lunch beautifully fused with mimosas aplenty
Blue Orchid- Saturday and Sunday
The Cup & Cork- Coffee & Breakfast Daily (Closed Tuesdays)
The Grille at Mahogany Run- Sunday
Old Stone Farmhouse- Sunday
Lunch, Dinner, or Something Sweet
Blue Orchid- (D) Caribbean Fusion, Pizza
Brooks Bar & Restaurant- (L,D) Caribbean, Local Specialties
Famous Delite- Milkshakes, Adult Milkshakes
Hull Bay Hideaway- (L,D) Beachside Bar & Grill, Daily Specials
Magens Bay Pizzeria- (L) Quick Bites at Magens Bay
Northside Bistro- (D) Continental & International Cuisine, Brewery
Old Stone Farmhouse- (D) Seafood, Steak, & Vegetarian Fine Dining
Sib's on the Mountain- (D) Bar & Grill, Daily Specials
The Cup & Cork- (L) Deli, Wine Shop
The Grille at Mahogany Run- (D) Seafood & Steak, Lighter Fare
Three Sheets- (L,D) Bar & Grill, Local Specialties
Thirteen- (D) Fusion Fine Dining
After Hours- After hours dining and drinks
Slider Shack at Hull Bay Hideaway- until 1am, later on Saturday and Sunday
Sib's on the Mountain- until 4am, 2am on Sunday's


Brunch with a view, candlelit dinners in a historical setting, and late-night brews with locals, the Northside offers a delicious encounter for every occasion. Be sure to pencil in a Northside dining experience for a truly spectacular meal on your St. Thomas vacation! To learn more about dining in St. Thomas, make sure you visit our Local's Guide to St Thomas Restaurants.
Dig In,
Megan