A Local's Guide to St. Thomas: Kid-Friendly Cruise Excursions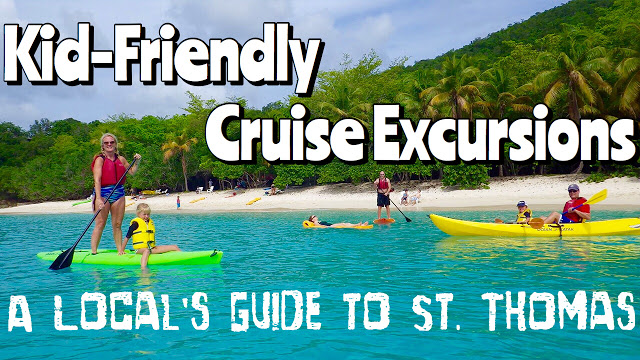 You've heard the phrase, "Happy Wife, Happy Life." I've found this to be a pretty good mantra for being a husband, but when you become a parent, it's more like "Happy Child, Happy Life." Nothing dampens a vacation (or a moment) like a crying baby or pouty child, and when you're cruising, you don't want to spend those precious moments in port scrambling for ways to keep your little ones entertained. You've been planning this cruise for months and have seen all the smiling ads of happy families experiencing the vacation of a lifetime. You want that for you family too! You need a game plan for St Thomas shore excursions that will make for smiling ad-worthy moments on your vacation. As an island parent, I want to save you the worry with a guide to the St. Thomas shore excursions that are sure to suit the whole family, especially your little ones:
All of these family-friendly St Thomas shore excursions fit within the normal hours for cruise ships, but you should always double check your ship schedule and account for the time difference between ship and local time. Your child will love your port day in St. Thomas with exciting cruise excursions like these! So get the camera ready because big smiles and big adventures await your family in St. Thomas!
Be sure to check out our blog article on A Local's Guide to St. Thomas: Know Before You Cruise, and visit our Shore Excursions page to book the shore excursions on St. Thomas! If you have any questions about kid-friendly shore excursions or any inquiries about the island, call or e-mail us for authentic local insight!
Get Ready for Family Fun,
Amit
CaribbaConnect Mentioned Excursions:
St. Thomas Private Sightseeing Tour
Island Tour with Shopping Stop in St Thomas
Island Tour with Shopping and Beach Stop in St Thomas
Island Tour with Beach Stop in St Thomas
St. Thomas Beach Hopping Private Tour
Half-Day Snorkeling and Sailing Tours in St. Thomas
Half Day Sailing Tour to St. John with Lunch

Full Day Sailing Tour to St. John
Private Full Day USVI Sail - Pizza Pi VI Lunch Stop & Premium Open Bar
32ft Powerboat Adventures Half Day Charter - St. Thomas & St. John
32ft Powerboat Full Day Charter - Custom Itinerary
Private 35ft Boat Charter - Full Day
St. Thomas Mangrove Lagoon Snorkeling and Kayaking Tour
St. Thomas Mangrove Lagoon and Cas Cay Ecotours
Ecotour and Lunch - St. Thomas Mangrove Lagoon and Cas Cay
St. John Eco Hiking and Snorkeling Tours