Bluebeard's Castle Resort Area Guide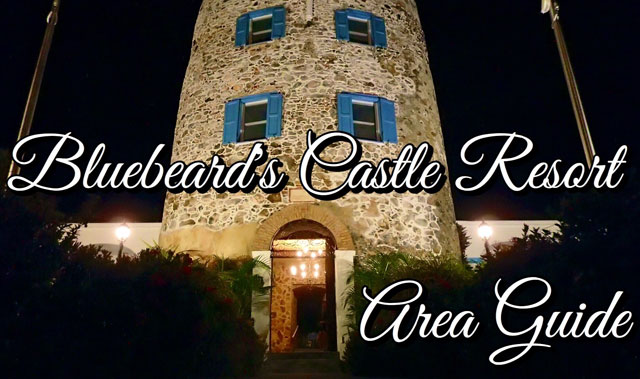 Incredible sunsets, the sparking view of Downtown Charlotte Amalie at night, and decadent meals that you'll talk about even after you're back home, these are just a few of the things that Bluebeard's Castle Resort in St. Thomas is known for. Their signature "Bluebeards" fortress dating back centuries and named for the infamous pirate is just a piece of the rich history of the resort property. Guests of Bluebeard's Castle will enjoy a truly diverse experience at the resort, and that's just scraping the surface of all that awaits you in St. Thomas. Discover the exciting St. Thomas attractions that are just outside the gates of Bluebeard's Castle Resort:
Downtown Charlotte Amalie: History, shopping, dining, it all can be found in Downtown Charlotte Amalie. Take a walk through the history-rich, picturesque alleyways and visit sites such as the famous 99 steps and historic Fort Christian. Take advantage of duty free shopping and score incredible deals on rare gems, diamonds, and gold. Luxury brand watches, liquor and tobacco, and locally made soaps, there's a bit of everything to be found when shopping in St. Thomas, and Downtown Charlotte Amalie is the hub for the best deals and selection. You'll want to enjoy a meal when you catch a whiff of Caribbean cooking and local favorites as you browse the alleys. The incredible views of Charlotte Amalie Harbor add to the ambiance of your Downtown experience, and it's just a 5 minute drive away from Bluebeard's Castle.
Havensight Mall: Located minutes away from Bluebeard's, you'll spot the cruise ships in port at Havensight Mall right from the resort. Along with close encounters to these magnificent ships, Havensight Mall offers a large selection of jewelry, electronics, souvenirs, and more, all duty free of course. The Havensight Mall area is walkable from Downtown Charlotte Amalie for a leisurely stroll along the waterfront through Yacht Haven Grande, featuring stores such as Coach and Louis Vuitton. The Havensight Mall Area also offers a variety of local and international cuisines to choose from serving breakfast, lunch, and dinner such as sushi, BBQ, and Caribbean specialties. Services are available in Havensight should you need them such as a post office, drug store, and local market. From mega ships to mega deals, Havensight Mall offers a great afternoon of shopping and sights.
The Northside: The Northside of St. Thomas is known for its lush foliage, fantastic views of nearby islands, and the gem of St. Thomas, Magens Bay. It's a short trip from Bluebeard's Castle to one of the top beaches in the world. Magens Bay has all the amenities you could need for a perfect day at this perfect bay: beachside restaurant and bar, watersport and beach chair rentals, facilities, and of course, soft sand and the Caribbean Sea. Hit the top photo spots on island, visit the souvenir mega store at Mountain Top, and stop at a local's beach like Hull Bay. Delight in the quieter side of St. Thomas with the laid-back beauty of the Northside.
Things to Do- Through our tour and activity booking service, CaribbaConnect, you can experience all the top things to do in St. Thomas with just one click. Visit our booking site to hit the many St. Thomas attractions and excursions available for Bluebeard's Castle Resort guests.
Dining- The onsite dining options at Bluebeard's Castle Resort are among the top restaurants in St. Thomas. Banana Tree Grille and Room With a View both feature delicious high end dinners including steak, seafood, and creative comfort foods, extensive wine and cocktail lists, and unmatched sparkling views of Downtown Charlotte Amalie Harbor after dark. The Cabana Bar and poolside bar offer casual dining and drink specials, and live music is hosted at the resort on certain nights. If you're looking to venture out to one of the many dining areas on island, use our handy dining guides to help you choose the restaurant that's sure to hit the spot:
The convenience of Bluebeard's central location makes it easy for guests to access top St. Thomas attractions within minutes while all of the excitement of St. Thomas sights and excursions can be explored from Bluebeard's Castle with available taxi services from the resort. Get swept up by the charm of the island, be wined and dined with award-winning delicacies, and let the views take your breath away on your St. Thomas vacation at Bluebeard's Castle Resort.
Be sure to check out our Excursions page for the best excursions on St. Thomas! If you have any questions about Bluebeard's Castle Resort or any inquiries about the island, call or e-mail us for authentic local insight!
Get Swept Away,
Amit
CaribbaConnect Mentioned Excursions:
Public St. Thomas Sightseeing and Beach Stop Tour
Private St. Thomas Beach Hopping Tour
Private St. Thomas Shopping Tour
Public St. Thomas Shopping and Sightseeing Tour
Public St. Thomas Sightseeing Tour
Private St. Thomas Sightseeing Tour
Full Day Sail to Jost Van Dyke
Mangrove Lagoon and Cas Cay Kayak, Hike, and Snorkel Ecotour