Elysian Beach Resort Area Guide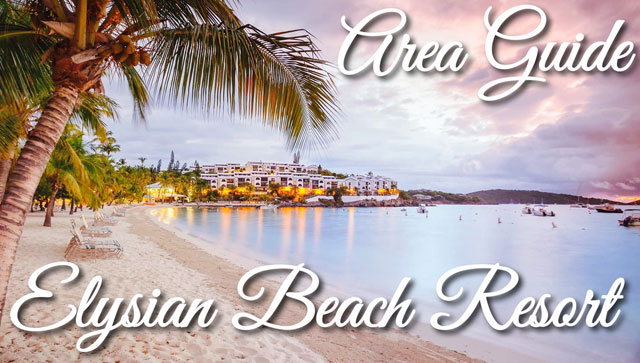 From the moment you arrive at Elysian Beach Resort in St. Thomas, you'll understand the reason behind their namesake. Wake up to a spectacular view of our peaceful, crystal Caribbean beach, enjoy a delicious frozen cocktail while you soak up the sun, let your cares melt away in our waterfall pool, savor fresh, decadent seafood dinners, and experience the piece of heaven in paradise that is Elysian Resort. From sunrise over the Caribbean to dinner by the sea, they strive to make each moment of your vacation heavenly, and there's even more bliss to be found throughout the island of St. Thomas. Our resort area guide will take you through the sandy shores, exciting excursions, and divine dishes that await on your St. Thomas vacation:
Beaches- The beach at Elysian Resort is a true tropical paradise. Relax in a beach chair and enjoy a frozen cocktail from their beachfront restaurant. Explore the seas above and below with watersports and excellent snorkeling spots. Admire the yachts in harbor at adjacent St. Thomas Yacht Club, and enjoy a perfect Caribbean sunset from the welcoming turquoise water. Their convenient location in the East End of St. Thomas puts guests just minutes away from other top St. Thomas beaches such as Secret Harbor, Sapphire Beach, and Coki Point each featuring unique snorkeling, beachside dining, and amenities. Lindquist Beach (Smith Bay Park) is also nearby and offers a tranquil, off-the-grid beach experience with quiet waters and breathtaking views. Experience the best of St. Thomas beaches just a short drive from Elysian Resort or take a Sightseeing and Beach stop Tour with convenient pick up right from the lobby!
Red Hook- Red Hook is the place to go for restaurants, shopping, and St. Thomas day trip excursions on the East End. Less than 5 minutes away from Elysian Beach Resort, you'll find this bustling area of the island featuring restaurants and pubs, jewelry and souvenir shops, and local amenities such as a market and drug store. American Yacht Harbor in Red Hook is a popular spot for sailing and