Insider Review: Island Tour With Shopping & Beach Stop in St. Thomas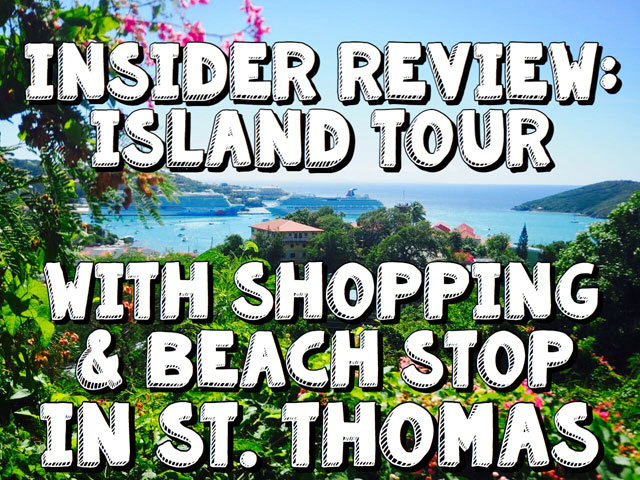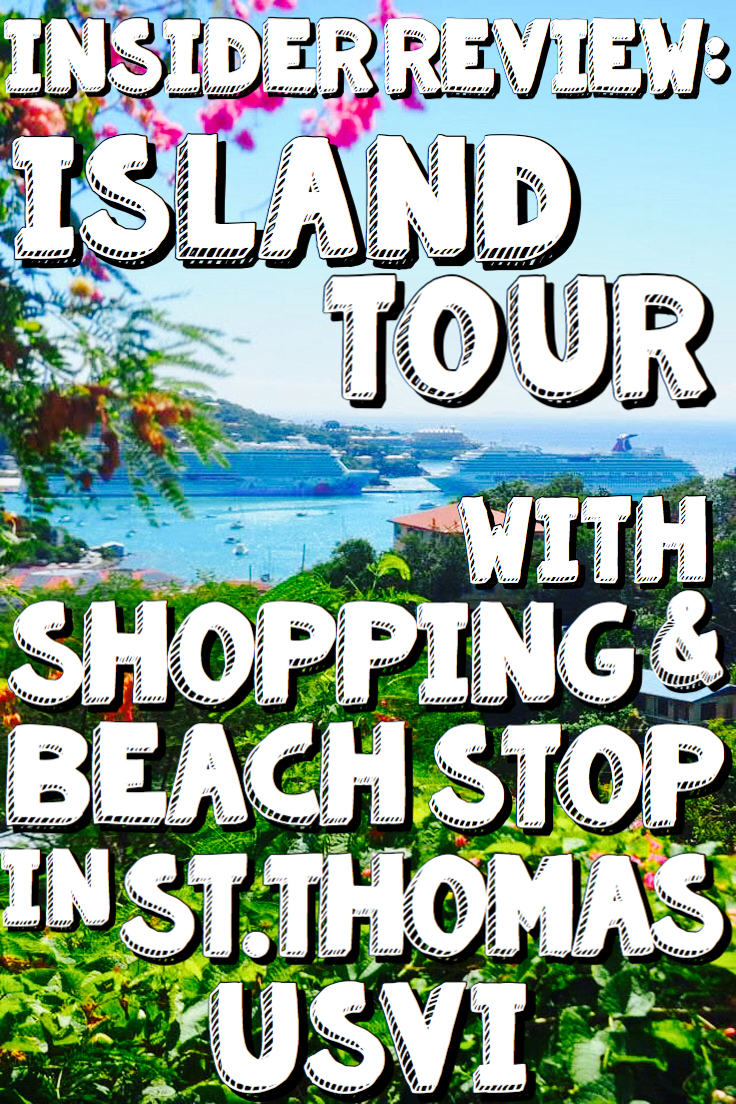 One of my favorite parts of living on an island is getting to play tourist every once in awhile. It's a great feeling to take a day off and "go on vacation" without ever having to leave the island! Sure we can go to a paradise beach any day, but getting the tourist experience means putting on that vacation mindset and seeing the island with fresh eyes. Taking a proper island tour has been long overdue for us, so an Island Tour with Shopping and Beach Stop was the perfect opportunity to go on a little staycation!
Our island tour picked up at Havensight Mall, right where the cruise ships dock. Our cruise shipper tour companions needed only to walk a few feet from the gate off the ship to load up on the tour and set out to explore St. Thomas! The tour will also conveniently pick up right from any resort or villas.

Our ride for the tour was a colorful, open-air vehicle that the islanders call a "safari". Our safari was stocked with complimentary waters, sodas, and juices to enjoy all day. Once everyone grabbed a beverage, we set out for a day of shopping, sightseeing, and relaxing at the beach!
The island tour began with a drive along the scenic waterfront to our first stop in Downtown Charlotte Amalie. Historical sites, restaurants, and of course, tax and duty free shopping can all be experienced downtown. The tour alots just over 2 hours to explore at your leisure, which is plenty of time to do it all if you wish! Our tour guide pointed out that the best deals on t-shirts and souvenirs can be found at Vendor's Plaza, while Main Street is where you'll find the best deals on jewelry and watches.
>> Click Here to book the Island Tour with Shopping and Beach Stop! >>
We decided to start at Vendor's Plaza which is a large market square recognized by its blue tents. Each vendor specializes in something different such a t-shirts, dresses, beach bags, and even hair braiding. You can also find great deals on local jewelry such as conch, coconut, and the caribbean gemstone, larimar. My favorite thing to shop for at Vendor's is knockoff bags and sunglasses such as Michael Kors and Coach, and I always bring our visitors for a shopping trip to score a great faux bag.
Next we headed to Bakery Square for a quick breakfast of some local rum balls (similar to donut holes) and coffee. If you time it right, you could also grab an early lunch in Downtown after you shop.
Next we headed down Main Street to browse the shops. Gold, diamonds, gemstones, you name it- it's all on Main Street. If you're looking for specialty brands such as Alex and Ani, Pandora, Rolex, Swatch, Breitling, Tiffany and Co., etc., you will find a specialty shop to match, and it's all tax and duty free! If jewelry isn't up your alley, downtown has specialty stores of all kinds ranging from brand apparel shops to discount liquor stores; you can even shop at a cigar humidor, a turkish bazaar, or an antique store with authentic buried treasure. There's something for every shopper in Downtown Charlotte Amalie!

>> Click Here to book the Island Tour with Shopping and Beach Stop! >>

When we were finished shopping, we took a little time to see some historical sites like this 350-year old Lutheran church and replica of the Liberty Bell. Fort Christian, Hotel 1829, the 99 steps, and St. Thomas Synagogue are a few of the top historical sites you can also experience Downtown.
At 11:30 we met back up with our tour group and set off to see the sights!
Our first sight was an incredible view of Charlotte Amalie harbor at a spot that was totally new to me!
>> Click Here to book the Island Tour with Shopping and Beach Stop! >>


Our tour guide, Sunny, was such a character! He told us about everything we were looking at such as Hassel and Water Island along with pirate legends and a bit about St. Thomian culture. He was captivating, entertaining, and made everyone laugh!
We took some postcard-perfect shots!
And of course, no island vista is complete without a selfie!

>> Click Here to book the Island Tour with Shopping and Beach Stop! >>


From there, it was an entertaining climb up the mountainside filled with a follow the leader song, island jams, and hilarious commentary from Sunny! Our next stop was at the highest point in St. Thomas, Mountain Top.
Mountain Top is known for its breathtaking view featuring Magens Bay and silhouettes of neighboring St. John and the British Virgin Islands. Sunny gave us another witty rundown of all the sights, and we had about a half hour to admire the views and do some shopping.


From t-shirts and hats to jewelry and island spices, Mountain Top is THE souvenir megastore of St. Thomas! You can find something for all your friends back home while enjoying a fresh cocktail from their well-stocked bar, and be sure not to miss out on their fresh banana daiquiris- they are world famous after all!

>> Click Here to book the Island Tour with Shopping and Beach Stop! >>
Next stop was Drake's Seat, the most famous lookout point in St. Thomas which offers an amazing view of Magens Bay! As we snapped our million-dollar shots, Sunny told us a bit about Magens and then went over our beach options for the afternoon. Everyone was given a choice between Magens Bay, Coki Beach, and Sapphire Beach, and the groups were dropped off respectively.


We chose Coki Beach, and as you can see, it was a beautiful afternoon!
Coki is located right next store to Coral World Ocean Park, and you can see their underwater observatory there on the right. The beach has soft white sand, crystal clear waters, and fantastic snorkeling!


>> Click Here to book the Island Tour with Shopping and Beach Stop! >>


The colorful boardwalk at the entrance of the beach offers restrooms and changing areas, showers, souvenir shops, rentals, and restaurants.


With watersport rentals from snorkeling gear to clear-bottom kayaks, beachside food and drink service, and umbrella and chair rentals, Coki Beach has everything you'd need for a day at the beach which is why it's so popular! We enjoyed a delicious local lunch of beef pate and soaked up some sun until it was time to head back.
We had a full day of fun experiencing the real highlights of St. Thomas! Shopping, island views, fresh cocktails, world-class beaches, and local food- we did it all!

>> Click Here to book the Island Tour with Shopping and Beach Stop! >>
The tour ended with a scenic right back to Havensight where shops were still open for even more shopping before making the short walk back to the ship. As an islander on this tour, I was able to see my home through a different view, and I even learned a few things. I would have personally taken our visiting family or friends to every single one of the stops. As a "tourist", I loved that the tour was flexible and provided individual options even with two full groups. I also loved that it was a full day; whether coming off a cruise ship or just wanting to sample the island, from 9-5 we saw and did so much without having to map out our day or plan a single thing! This was a super fun and perfect way to sample St. Thomas, and I would recommend the Island Tour with Shopping and Beach Stop to anyone!
Experience the Island,
Megan
CaribbaConnect Mentioned Excursions:
Island Tour with Shopping and Beach Stop