Discover Scuba Diving in St Thomas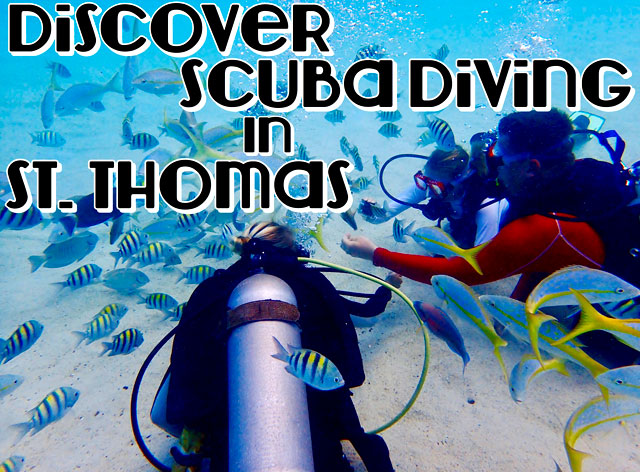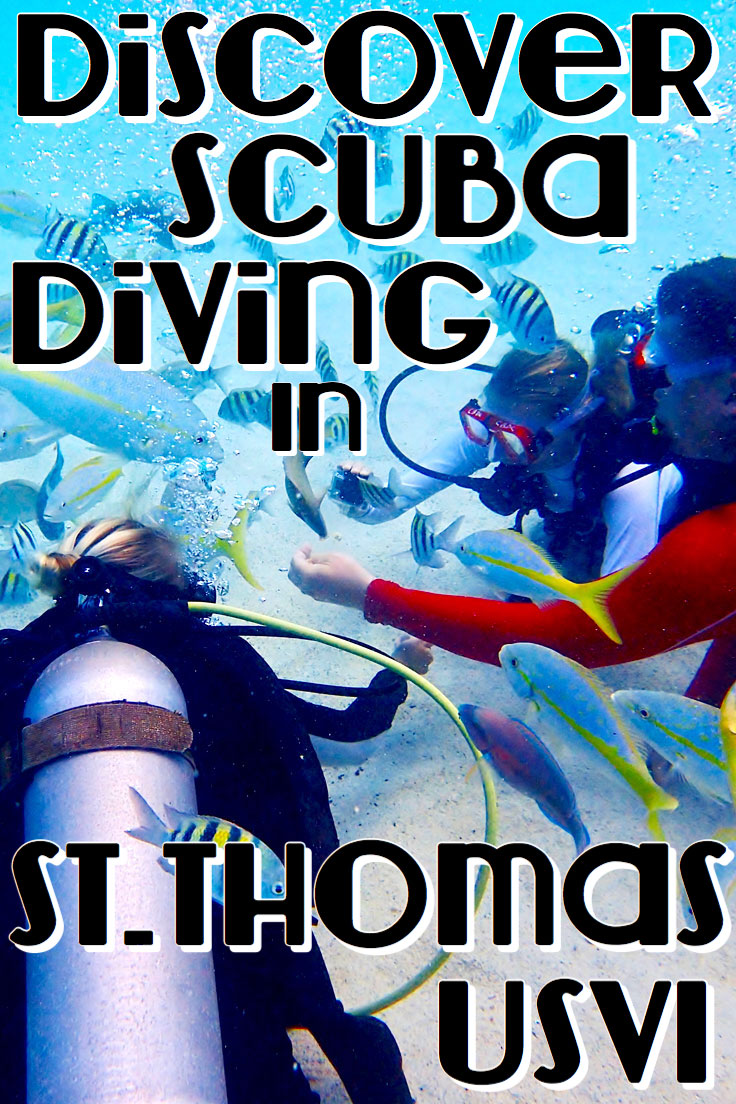 Several cruises and 4 years of being an island girl later, I FINALLY tried diving! It took a little time for me to build up the nerve, but I can honestly say I would have went diving a long time ago (years) iif I had known how easy it is! I'm excited to share with you (especially those who are nervous like I was) how simple it is to get breathing underwater and exploring the Caribbean Sea for yourself!
>> Click Here to book the Discover Scuba Dive in St Thomas! >>
The Discover Dive experience begins at the dive shop. If you have a car, the dive shop provides you with a free parking pass which was really convenient and helpful as parking in the area is paid and limited. We filled out a little bit of paperwork, and then we were given our official Padi Dive Log!
Our instructor Gabe took us through a 20 minute class going over the gear we would be using and the basic skills we would learn once we got in the water. When asked who was nervous, I proudly raised my hand! Despite being an avid snorkeler, I knew this would be a new level of experience, and I was a little uneasy. Gabe did a great job of assuring me that every step of the process would be safe and that he'd be with us and watching the whole time.
After the intro class, it was time to get geared up. This part was easy enough as Gabe went around and strapped each of us into our vest, got everything adjusted, and reminded us of the functions of each part of the gear. It was a short walk, gear-ready, from the shore to the crystal clear sea. In waist deep water, we put on our fins and practiced breathing through our regulators. Then we simply kneeled down in the water and began practicing the skills we learned about in our class- clearing our masks, equalizing, and things to do if our regulator came out.
>> Click Here to book the Discover Scuba Dive in St Thomas! >>
It was a little hard to remember to breath at first, being completely under water, but I quickly got used to it. As we each passed our skill checks, we gradually went deeper until we were all comfortable moving under the water, and the fish were ready and waiting!
Gabe brought dog biscuits, and before we knew it, we were surrounded by a school of excited and hungry fish!
Swimming around the school of fish was a 3ft long remora (sucker fish) which was so awesome see so close!
>> Click Here to book the Discover Scuba Dive in St Thomas! >>
As our dive progressed, we went deeper into the ocean, getting up close with coral and fish on the bottom of the sea floor. Our dive reached a maximum depth of 38ft, and as promised, Gabe was watching each of us every step of the way, pointing out unique corals and creatures and using the hand signals we learned to check in.
Looking up at the surface nearly 40ft above and swimming with complete control was magical!
We came back to the shore slow and steady. When the dive was all done, Gabe filled out our dive log with our first official dives which would be credited towards certification for the next year.
>> Click Here to book the Discover Scuba Dive in St Thomas! >>
Despite how nervous as I was to begin with, I will certainly be getting certified within the year! Venturing so deep in the ocean and gliding through the water, right up close with coral and fish, was such an incredible feeling! Don't wait like I did and miss out a moment longer! After my experience, I would recommend a discover dive to anyone, and St. Thomas is the best place to start!
Be sure to visit our Scuba Diving St Thomas page for all the best diving in St. Thomas! If you have any questions about discover diving in St. Thomas, Virgin Islands or any questions about the island, call or e-mail us for local insight!
Dare to Dive,
Megan
CaribbaConnect Mentioned Excursions: