The Island Beachcomber Hotel: Area Guide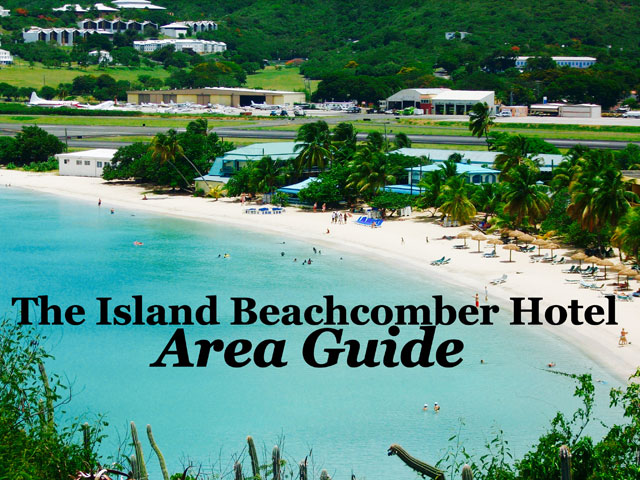 Convenient proximity to the St. Thomas airport is just one of the many benefits that guests of The Island Beachcomber Hotel will experience. The beachfront location at Lindbergh Bay, one of the best beaches in St. Thomas, and their waterside restaurant serving breakfast, lunch, and dinner are a few of the extra perks of staying at Island Beachcomber St Thomas. Additionally some of the top St. Thomas attractions and dining areas are a short drive away. Because we want all of our island guests to get the most out of their stay, I've put together an area guide to help you plan and enhance your St. Thomas vacation:
Nearby Beaches- The Island Beachcomber Hotel St Thomas is located on beautiful Lindbergh Bay. Their beach is equipped with watersport and beach chair rentals as well as waterfront dining options. Relax in the warm, clear water just steps from the hotel and catch a glimpse of low-flying planes as they go to land at nearby Cyril E. King airport. A playground is even set up just off the beach for families with small children to enjoy. A short drive away is Brewers Bay near the University of the Virgin Islands in St. Thomas, including a long stretch of soft sand and good snorkeling. Brewers Bay overlooks the runway to the St. Thomas airport, perfect for watching planes come in. This beach also hosts local food trucks providing Caribbean cuisine for your day at the beach. Be the envy of all departing St. Thomas flights as you experience picture-perfect beaches with a unique view near The Island Beachcomber Hotel.
Crown Bay- The Crown Bay area of St. Thomas is about a 5 minute drive away from the hotel and features shopping and dining options. Nisky Center is a small shopping center in the area with fast food options such as KFC and Domino's Pizza and a Chinese restaurant. Crown Bay Marina is both a cruise port and shopping center. The cruise ship terminal has many shops, a bar and grill, and hosts seasonal events throughout the year. The Crown Bay Marina shopping center features a dockside pub, a coffee shop, a market, and ferry service to Water Island, the 4th and smallest of the inhabited U.S. Virgin Islands. Spend a day at Honeymoon Beach on Water Island or shop at the cruise port, all within a short drive from The Island Beachcomber Hotel.
Frenchtown- This local fishing village is well known for its many restaurants and morning fresh fish market. Frenchtown is about 10 minutes away from The Island Beachcomber Hotel. The village includes breakfast, lunch, and dinner spots but is most popular in the evening as it is one of the few areas in St. Thomas that is busy and open late after dark. Frenchtown is a great area to enjoy some fresh local seafood or live music for a late night on the town.
Downtown Charlotte Amalie- The Charlotte Amalie ferry terminal and downtown area are just a short walk from Frenchtown. The ferry provides service to St. John and select British Virgin Islands while the downtown area is rich with Shopping and Dining. Experience local Caribbean cuisine at one of the alleyway lunch cafes. Score duty free deals on jewelry and name brand watches, or pick up a souvenir for your friends back home. If history is your interest, stroll the streets of Charlotte Amalie to visit historical sites or take a self-guided tour. Take advantage of The Island Beachcomber Hotel's convenient location and enjoy the incredible views and top St. Thomas attractions located in Downtown Charlotte Amalie.
Havensight Mall- Havensight Mall and Yacht Haven Grande are popular St. Thomas shopping areas and both are within walking distance from Downtown Charlotte Amalie along the picturesque waterfront walkway. Havensight Mall is the main cruise ship terminal and hosts the largest selection of St. Thomas souvenir shops on island. You'll also find a large selection of jewelers in Havensight as well as electronics, discount sunglasses, and a grocery store. Havensight Mall also hosts breakfast, lunch, and dinner dining options ranging from burgers and BBQ to Chinese and fresh sushi. Across the street from the Havensight Mall, you'll find local pubs, liquor shops, and the St. Thomas Skyride to Paradise Point. Yacht Haven Grande is just a short walk away and features top luxury brand store such as Louis Vuitton and Gucci at duty free prices. Restaurants are open along the yacht harbor for lunch and dinner or grab a coffee and a seat on the dock to admire the mega yachts and cruise ships in port. Shopping, dining, and spectacular views of St. Thomas can all be found in this area just a 15 minute drive from The Island Beachcomber Hotel.
Things to Do- Through our activity and transportation booking service, CaribbaConnect, you can experience all the top things to do in St. Thomas with just one click. Visit our booking site to hit the many St. Thomas attractions and excursions available for The Island Beachcomber Hotel guests.



Dining- The on-site restaurant, The Beach Bar and Grill at Lindbergh Beach, serves breakfast, lunch, and dinner. The Beach Bar also offers an extensive specialty cocktail menu including frozen drinks. If you're looking to venture out to one of the many dining areas on island, use our handy dining guides to help you choose the restaurant that's sure to hit the spot.
The Island Beachcomber Hotel's convenient beachfront location allows you to access some of the top things to do in St. Thomas within a short drive. Island Beachcomber is equipped with taxi service to bring you to any St. Thomas attractions or activities you desire, and CaribbaConnect is always available to offer recommendations and local advice. We can't wait to have you stay with us in St. Thomas and share in your vacation!
Be sure to check out our Excursions page for the best excursions on St. Thomas! If you have any questions about Island Beachcomber Hotel or any inquiries about the island, call or e-mail us for authentic local insight!

Enjoy the Island,
Amit
CaribbaConnect Mentioned Excursions:
Full Day Sail to Jost Van Dyke
Mangrove Lagoon and Cas Cay Kayak, Hike, and Snorkel Ecotour