The Ritz Carlton St. Thomas Area Guide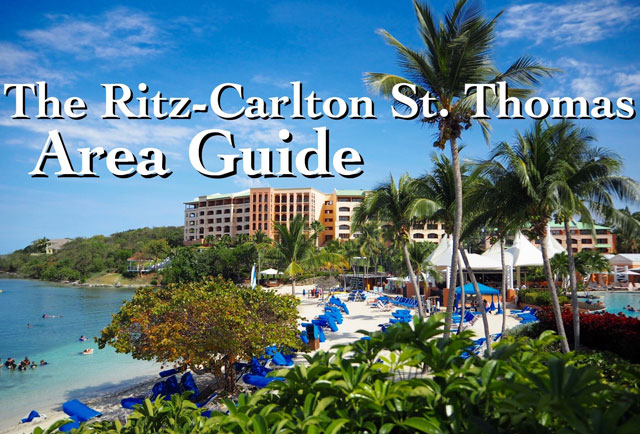 Caribbean luxury is what guests of the Ritz Carlton expect to find on their St. Thomas vacation. And rightly so as they are greeted at the door with the first sight of the radiant, crystal blue Great Bay and sunlit view of neighboring St. John right from the lobby balcony. The Ritz Carlton St. Thomas provides impeccable dining options, watersport and snorkeling equipment, an infinity edge pool and luxury lounges, and a lavish spa. It's paradise in and of itself, but the island of St. Thomas has a wealth of world class beaches, sights, shops, and experiences to be had that Ritz Carlton guests do not want to miss out on. Let me be your local guide to the Ritz Carlton area to ensure you encounter all the best of St. Thomas on your vacation:
Beaches- The Ritz Carlton's sparkling onsite beach, Great Bay, is home to abundant marine life, perfect for spotting stingrays and schools of fish while Snorkeling with your family. The white sand beach is equipped with luxury beach chairs and top-of-the-line watersports such as hobie cats, kayaks, and stand-up paddleboards. The neighboring Ritz Carlton Club's beach, Coconut Cove, is easily accessible, offering oceanside luxury and unique snorkeling sites. In addition to resort beaches, guests of the Ritz Carlton, can access some of the best beaches in the Caribbean found right here in St. Thomas! Top St. Thomas beaches are found on the East End of the island just a short drive away from the Ritz Carlton St. Thomas. Prime snorkeling destinations, pristine soft sand shores, world-famous bays, and how to experience each one can all be found in our Local Guide to St. Thomas: Best Beaches. With convenient pick up right from the Ritz Carlton, guests can arrange a Sightseeing and Beach Stop Tour, to get the full island beach experience, complete with incredible vistas and highlighted local sites before hitting one of the best beaches in St. Thomas. Large Parties, families, or couples looking for a more intimate setting can book a customizable Private Beach Hopping Tour and sample 3 of the top beaches in St. Thomas in a private vehicle for the perfect beach day with exclusive transportation, flexibility, and local insight.
Red Hook- With shops, restaurants, and Boat Rentals, Red Hook is a hub for island amenities, and it's less than 5 minutes from the Ritz Carlton St. Thomas. During the day, Red Hook is bustling with shoppers visiting St. Thomas apparel and jewelry shops or the local market. You'll find a variety of options for a waterside lunch spot or catch your pickup for a sunset sail. After dark, the streets of Red Hook are alive with diners, pub crawlers, and the sounds of live entertainment that is often playing. The beauty of Red Hook is that there is an ambiance, cuisine, and taste available to suit anyone. Our Red Hook Dining Guide provides a breakdown of fares and mealtimes to help you plan your dining experiences. Ferry service to St. John and the British Virgin Islands is available daily from the Red Hook ferry terminal, offering a world of unique island excursions and adventures. Guests of the Ritz Carlton St. Thomas can experience all the local charm found in Red Hook and easy access to neighboring islands with convenient proximity to the resort.
Things to Do- Through our activity and transportation booking service, CaribbaConnect, you can experience all the top things to do in St. Thomas with just one click. Visit our booking site to hit the many St. Thomas attractions and excursions available for Ritz Carlton guests.


Dining- Dining at the Ritz Carlton St. Thomas is served with luxury and sophistication while maintaining a casual Caribbean air. Bleuwater serves breakfast with a beautiful ocean view as the sun rises over St. John and intimate high-end dinners as the lights of St. John sparkle in the distance. Essenza, the newest of the Ritz Carlton's restaurants, serves authentic Italian dinners with terrace or indoor seating. The pool and beachside restaurant Sails serves fresh, casual fare and ice cold cocktails in an open air setting. Zest is the onsite coffee and smoothie shop open all day, and Coconut Cove is open at the Ritz Carlton Club, serving beachside Caribbean fare. If you're looking to venture out to one of the many dining areas on island, our dining guides will help you choose the restaurant that's sure to please your pallet.
Recommended Dining Articles:
Red Hook Dining Guide- See why Red Hook is the place to be for dinner and nightlife on St. Thomas!
Downtown Charlotte Amalie Dining Guide- Enjoy Caribbean fare or a meal overlooking Charlotte Amalie Harbor with our local insight to the many Downtown dining spots!
Havensight Mall Dining Guide- A variety of cuisines, atmospheres, and waterfront views await in with Havensight Mall dining spots!
Frenchtown Dining Guide- Indulge in fresh Caribbean seafood in this quaint fishing village!
Northside Dining Guide- Journey to the lush north side of St. Thomas for top-rated restaurants and fantastic island views!

Anticipate the unexpected from the moment you arrive for your St. Thomas vacation! Let the Ritz Carlton St. Thomas provide the luxury vacation you've been dreaming of, and CaribbaConnect will provide the adventure and experiences that you'll cherish for a lifetime.
Be sure to check out our Excursions page for the best excursions on St. Thomas! If you have any questions about The Ritz Carlton or any inquiries about the island, call or e-mail us for authentic local insight!

Indulge in the Island,
Amit

CaribbaConnect Mentioned Excursions:
Public St. Thomas Sightseeing and Beach Stop Tour
Private St. Thomas Beach Hopping Tour
Private St. Thomas Shopping Tour
Public St. Thomas Shopping and Sightseeing Tour
Public St. Thomas Sightseeing Tour
Private St. Thomas Sightseeing Tour
Full Day Sail to Jost Van Dyke
Mangrove Lagoon and Cas Cay Kayak, Hike, and Snorkel Ecotour
Parasailing- Experience the island from a bird's-eye view on this thrilling St Thomas Parasailing excursion that combines powerboating, parachuting, ballooning, and gliding all into one unforgettable adventure in the Caribbean Sea.