Mafolie Hotel: Area Guide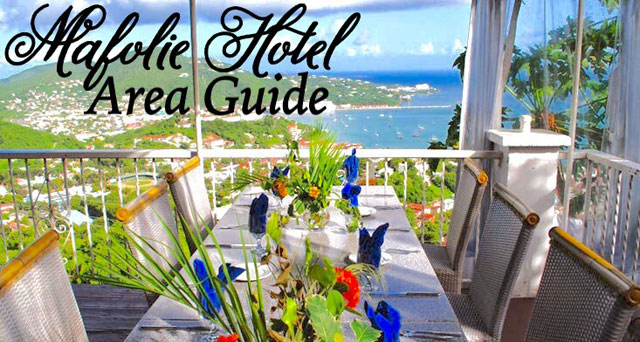 Guests of Mafolie Hotel in St. Thomas get a little something extra on their vacation, whether it be the history of the hotel, the world-class view of Charlotte Amalie Harbor, or a fantastic Caribbean meal at our restaurant. And if that weren't enough, Mafolie Hotel is centrally located on the island with top St. Thomas attractions just a short drive away. We want you to experience all that St. Thomas has to offer to ensure you have the best vacation with us. Here's our guide to the Mafolie Hotel area and all the nearby things to do in St. Thomas:
Downtown Charlotte Amalie: Mafolie Hotel overlooks Charlotte Amalie and is just about a 5 minute drive to downtown St. Thomas. In Downtown Charlotte Amalie, you'll find the main Shopping district with everything from name brand jewelry and watches to souvenirs and our local vendor's plaza, all duty free! In addition to shopping, Downtown has many dining options including local fare, pubs, and waterview dinners. Charlotte Amalie is rich with history featuring a Danish fort, a legendary pirate tower, and the oldest continuously used Jewish synagogue in America. Ferry service operates from the waterfront of Charlotte Amalie with service to St. John and some of the British Virgin Islands. Experience all that Charlotte Amalie has to offer within a short drive.
Frenchtown: About a 10 minute drive from Mafolie St Thomas is Frenchtown, a local fishing village. If you're already in the downtown area, it's about a 5-10 minute walk away along the waterfront. Frenchtown is well-known for its many restaurants, featuring cuisines from all over the globe. As many restaurants in Downtown Charlotte Amalie close before dinner, Frenchtown is especially popular after dark and is perfect for restaurant hopping. If you're looking for a great seafood dinner, you'll find it here in Frenchtown.
Havensight: This shopping area is within a 15 minute drive of Mafolie Hotel and features a wealth of souvenir shops as well as jewelry stores and restaurants. Havensight Mall is at the cruise port, so you can get up close and personal with these mega ships that frequent St. Thomas. Note that many of the stores in Havensight abide by the cruise schedules, so be sure to check before you plan to visit the mall area. The St. Thomas Skyride is across the street from the shopping mall and also operates on cruise ship schedules. Ride the gondola up to Paradise Point for a classic St. Thomas Bushwacker frozen cocktail and get incredible photos of Charlotte Amalie along the way. Yacht Haven Grande is just a short walk from the Havensight Mall area. It is one of the popular shopping areas in St. Thomas featuring high-end brands such as Gucci and Coach. Yacht Haven also features waterfront dining options and offers fantastic sunset views. The Havensight Mall area is great for shopping, dining, and sunsets.
The Northside: Mafolie Hotel is just a short drive away from top St. Thomas attractions on the Northside. Magens Bay is one of the top ten beaches in the world with facilities, watersport and beach chair rentals, and a restaurant and bar, and it's within a 10 minute drive. Take a photo at Drake's seat, the most popular lookout point and photo spot in St. Thomas. Venture to Hull Bay, a popular local beach and enjoy the live music featured at the beachside restaurant. Make the trek up to Mountain Top, the highest elevation point in St. Thomas, and shop at the mega souvenir store or simply enjoy a drink and the amazing views of the Virgin Islands chain. The Northside is also home many attractions such as ziplining, the golf course, and some of the highest-rated restaurants in St. Thomas.
Things to Do- Through our activity and transportation booking service, CaribbaConnect, you can experience all the top things to do in St. Thomas with just one click. Visit our booking site to hit the many St. Thomas attractions and excursions available for Mafolie Hotel guests.


Dining- The Mafolie Restaurant is one of the top dining spots in St. Thomas. We serve lunch Monday through Saturday, brunch buffet on Sunday, and dinner every night. Mafolie serves authentic Caribbean dishes and Continental fare with a Caribbean flare. We also offer an extensive specialty cocktail menu as well as fresh local juices. If you're looking to venture out to one of the many dining areas on island, use our handy dining guides to help you choose the restaurant that's sure to hit the spot.
At Mafolie Hotel, we want you to feel at home in St. Thomas, so we're happy to make recommendations for dining and activities on your vacation. Taxi service is always available from the hotel to get you to any beaches or excursions. There are so many things to do in St. Thomas, and the Mafolie Hotel St Thomas is conveniently located to access some of the top activities, attractions, and conveniences to make the most out of your St. Thomas vacation. We can't wait to welcome you to the island!
Chad Becker
General Manager
Mafolie Hotel

CaribbaConnect Mentioned Excursions:
Full Day Sail to Jost Van Dyke
Mangrove Lagoon and Cas Cay Kayak, Hike, and Snorkel Ecotour