Havensight Mall: Exploring the Cruise Port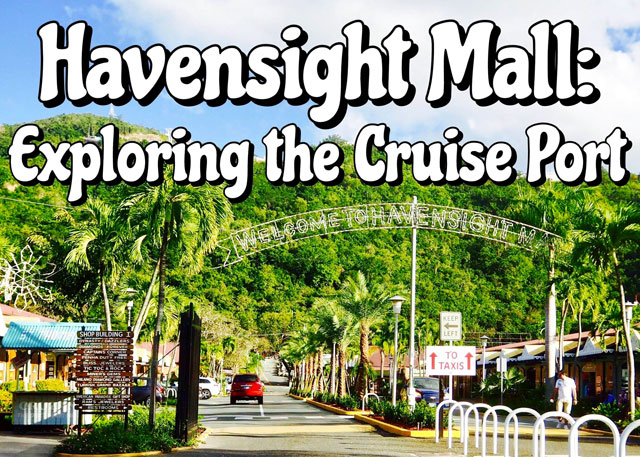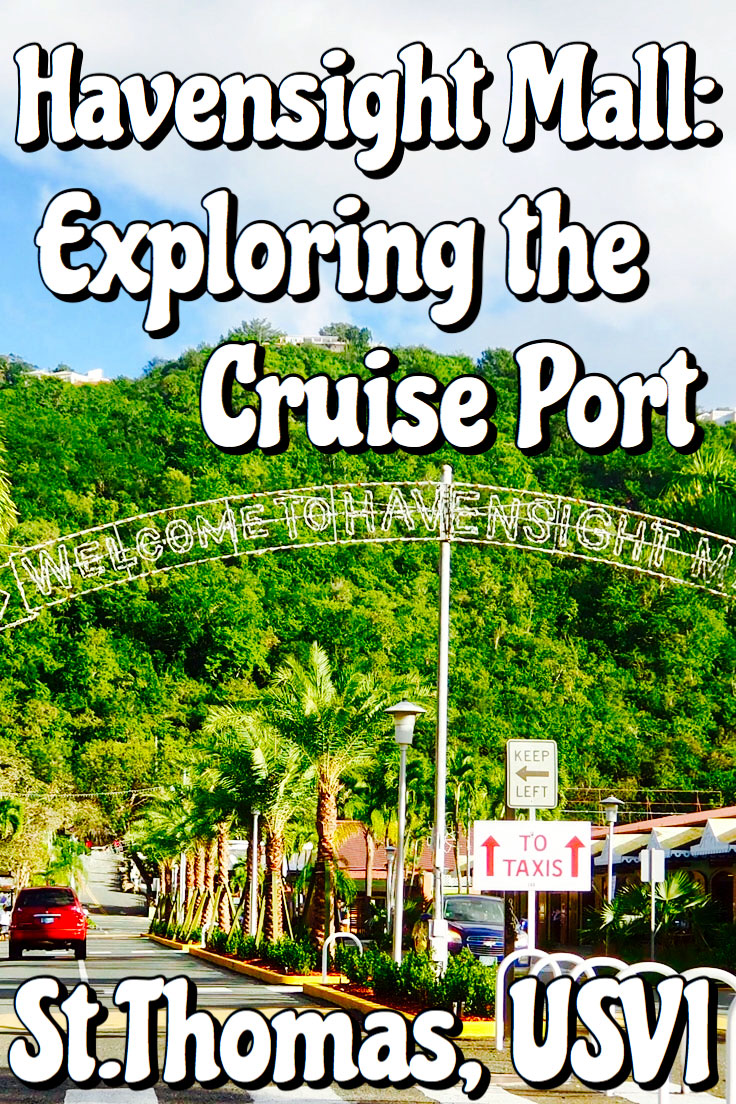 When you're visiting a new destination off of a cruise ship, your natural first question is "what is the cruise port like?" It is, after all, your first impression of this place that is brand new to you. Whether you are looking for adventure at your port or simply hoping to get off your ship, walk around the port, and get back to the pool and all day buffet, you will of course have questions. Is the cruise port open air? Do I feel like I'm experiencing this destination at all? Is there shopping? Is there transportation and nearby excursions? As a fellow cruiser, a St. Thomas local, and a lover of Havensight Mall, I am perfectly fit and thrilled to be your guide on your virtual welcome tour to the Havensight Cruise Ship Dock!
Havensight St Thomas - Overview
In addition to offering convenience and fun ways to spend your day in port, Havensight is one of the most scenic cruise ports in the Caribbean. From your cruise ship, you will wake up to amazing views of Charlotte Amalie harbor with its bright red roofs against the sparkling turquoise waters of the Caribbean Sea. When you exit your ship, you will be welcomed to Havensight, St Thomas by the sounds of island music. A shot of free Cruzan rum awaits at the entrance to the open air Havensight Shopping area. You can stop nearby for a photo op with your ship or in the provided St. Thomas postcard photo spot. From the Havensight Shopping Mall you will have access to tax and duty free shops of all kinds, restaurants, island tours, transportation to St. Thomas excursions, and walking access to nearby attractions.
Havensight Cruise Ship Dock - Location & Transportation
The St Thomas Havensight cruise port is located on the southern side of the island, and there are many local attractions nearby. The Skyride to Paradise Point is located across the street from the entrance to Havensight Mall. The Shops at Yacht Haven Grande, where you will find tax and duty free deals at luxury stores such as Gucci and Louis Vuitton, is just a short walk away. If you enjoy a nice long walk and time is of no mind, you can make the scenic stroll (approx. 20 min.) along the waterfront to Downtown Charlotte Amalie to do some shopping, experience the local history, or sample our Caribbean cuisine. Of course if you are like most cruisers, and time is of the essence as you have serious shopping, touring, excursions, or a certain destination in mind, taxi and tour services are available right from Havensight to excursions and St Thomas Beaches Near Cruise Terminal. With convenient pick up at the Havensight Pier, St Thomas is your oyster to explore! Since the island is only 32 square miles, you can go just about anywhere, even on a cruise ship schedule!
Havensight Mall Stores
Havensight Mall Directory
Shop Building I
Dynasty/ Dazzlers
Diamonds Forever
Captain's Corner
Penha Duty Free
Bliss Jewelers
Tic Toc & Rock
Miner's Gems
Milano Diamond Gallery
Turkish Grand Bazaar
Treasures Forever
American Paradise Gift Shop
Ram's Jewelers
Shop Building II
Miner's Gems
Pandora
Crocs
Little Switzerland
Penha Duty Free
Casa Blanca
Mayfair Jewelry & Gifts
Jewels A H Riise
Glitters
Diamonds International
Omni Jewelers
Jewels & Diamonds
Celebrity Jewelers
Iguana Jacks
Shop Building III
Dockside Bar
Caribbean Gems
Shoppers Haven
Fascination Jewelers Inc.
Miners Gems
Gem Palace
Blanc Du Nil
Caribbean Surf Co.
Omni Jewelers
Music Shoppe II
Delly Deck
Great Wall Restaurant
Shop Building IV
The Medicine Shoppe
Caribana
Shop Building V
Southern Exposure
Body Glove Surf Shop
Milan Jewels
Carnival Bazar
Shop Building VI
The Smoking Rooster
Outrigger
Captain's Corner
Tammi Pearl Spa
The Draughting Shaft
Gourmet Gallery
Shop Building VII
Sunglass Hut
Island in the Sun
Post OFfice
Di Moda
Jewel House
Local Color
The Tap & Still
Nova Scotia Bank
Havensight Mall Hours
Luckily for cruisers, the Havensight Mall St. Thomas Hours are really based on cruise ship schedules, and in fact many stores won't open at all if no ships are in. Most stores will run on about a 9 to 5 schedule, but you can pretty much be sure that while your ship is still in port, they won't close up if you are shopping. Of course dinner spots and bars are open late for locals and long term visitors. If you happen to be on a ship that is in extra late (after 6pm), Havensight Mall Hours will extend in a way for the late shoppers; some shops will start to close around the 5 or 6pm mark, but as long as people are out browsing, many shops will stay open late with the cruisers. If you are on a late ship schedule, I recommend checking with the shop clerks if you plan to come back later to browse to make sure they will be open for you.
Havensight Mall St Thomas - Shopping
You will find shops of all kinds at the Havensight Mall St Thomas from souvenirs and apparel to liquor and electronics. The whole island is tax and duty free in St Thomas. Havensight offers even bigger deals on top selections such as name brand sunglasses, all types of jewelry and gems, and specialty alcohol such as Havensight Liqueur. The best part of Havensight Shopping is that you'll have plenty of time to explore the island, take a tour or do an excursion, and then rack up on great shopping deals before heading back to your ship!
Havensight Port - Excursions from Cruise Port
These awesome island excursions pick up directly from Havensight Mall for your convenience. Just get off your ship, and be on your way!
Island Tour in St Thomas- Get your camera ready for this 2-hour tour that's the perfect way to see the top sights in St. Thomas! Learn about the history and culture of the island from your local tour guide on a fun party ride to all the best lookout points, and enjoy shopping at Mountain Top, the highest point in St. Thomas featuring amazing island views! Prefer a private tour? Arrange for a Private Island Tour.
Island Tour with Shopping and Beach Stop in St Thomas- See the sights, hit the shops, and soak in the Caribbean Sea on this all day tour that highlights all the best of St. Thomas! Snap postcard perfect pics, score tax free deals downtown, and spend your afternoon with a cocktail in hand or snorkeling in a school of fish at one of the best beaches in St. Thomas. Sample the island on this tour that's a favorite for cruisers!
Parasailing St Thomas, U.S. Virgin Islands- Soar sky high over the crystal Caribbean Sea as you experience St. Thomas from a bird's-eye view on the only excursion that combines the thrills of powerboating, parachuting, ballooning, and gliding! If your cruise ship comes in on Monday, Tuesday, or Wednesday, you can leave straight from Havensight. If your ship comes in another day of the week, you can still experience this top St. Thomas excursion with a short taxi ride to Sapphire Marina.
Havensight Port St Thomas - Other Cruise Ship Friendly Excursions
If your excursion of choice doesn't pick up from Havensight, have no fear! All St. Thomas excursions are just a taxi ride away, and the local drivers waiting as you disembark your ship, know the island well and will make sure you reach your excursion on time. No matter which excursion or tour you choose, our local guides know how important your cruise ship schedule is, and they will guarantee you are back on your boat with time to spare.
Discover Scuba Diving- Have you dreamed of diving in the Caribbean? Did you know that you don't need certification to give it a go? With a discover dive, a quick lesson and practice session is all you need to explore under the sea in St. Thomas! Your PADI-certified Scuba Instructor will take you on an amazing guided tour of the vibrant reef where you'll get up close with schools of tropical fish and unique sea life as deep as 40 feet!
St. Thomas Mangrove Lagoon and Cas Cay Ecotours- Explore exotic wonders of St. Thomas on this awesome nature tour as you kayak through the mangrove lagoon! Hike to the beautiful shell beach and red cliffs found on the island of Cas Cay, and discover for yourself how these unique salt water trees and the lagoon create amazing snorkel spots!
Half-Day Powerboat Adventure- Hit all the highlights of the USVI from the water on this 32ft charter for up to 8 passengers. Snorkel vibrant coral reefs and explore the pristine beaches of St. John on this custom boat rental! Visit top snorkel spots chosen with the help of your expert captain and all your gear included.
Half Day to St. John with Lunch- Set sail for beautiful Honeymoon Beach in St. John with top snorkeling spots and amazing views along the way! All your gear is included along with a buffet lunch and very open bar on this breezy sail that's the perfect way to spend a day in port!
Large Group Power Catamaran Tour - USVI- Cruising with a large group? Cruise, snorkel, and dance your way through USVI waters on a custom party at sea for up to 32 passengers with open bar, snacks, and snorkel gear included!
Shop, explore, or simply take a stroll and admire the island views. One thing is certain, the Havensight Cruise Ship Dock makes it easy for all cruisers to experience St. Thomas their way! Your visit to St. Thomas may be short, but your experience is sure to be grand! We hope you fall in love with the island and come back to visit again. You must just end up becoming an islander yourself one day. My first visit was off a cruise ship too!
Be sure to check out our blog article on A Locals Guide to St. Thomas: Know Before You Cruise, and visit our Shore Excursions page to book the best shore excursions on St. Thomas! See our Havensight Dining Guide for all your dining options in the area. If you have any questions about Havensight St Thomas or any questions about the island, call or e-mail us for authentic local insight!
Welcome to Paradise,
Megan
Click Here for the Official Site for Havensight Mall
CaribbaConnect Mentioned Excursions:
St. Thomas Private Island Tour
Island Tour with Shopping stop in St Thomas
St Thomas Private Sightseeing and Shopping Tour
Island Tour with Beach stop in St Thomas
St Thomas Private Sightseeing and Beach Stop Tour
Island Tour with Shopping and Beach Stop in St Thomas
Parasailing in St Thomas - Havensight
St. Thomas Mangrove Lagoon and Cas Cay Ecotours
Half Day to St. John with Lunch