A Local's Guide to St. Thomas: Boat Rentals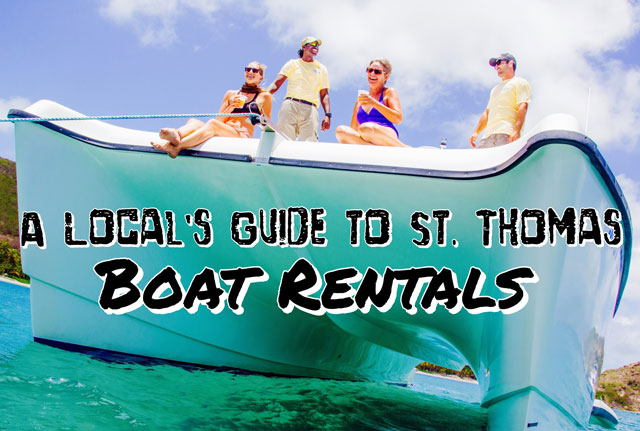 From snorkeling with sea turtles to an afternoon cocktail on the shore, there are so many ways to connect with the Caribbean Sea. But for the adventurous, there's nothing quite like the rush of the wind and hitting the waves in a powerboat. Boat rentals are vastly popular in the Virgin Islands, but there are common misconceptions that may falsely sway someone from an otherwise unforgettable day at sea. For example, did you know that St. Thomas Boat Rentals are a perfect excursion for families with an infant? That's right! The shaded awnings, custom itinerary, and available activities are ideal for enjoying the breeze with a baby on board and rotating shifts for snorkel stops or even visiting a secluded beach for baby to have some play time. The facts are: there's nothing special required for a powerboat charter, they are easy to reserve and available for up to 32 passengers, and the flexible custom itinerary allows you to island hop all the way through the U.S. and British Virgin Islands. To ensure you don't miss out on a day of high seas adventure, breezy relaxation, and island hopping exploration, I've got your guide to simplify your St. Thomas boat rental experience:
What do I need to rent a boat? Quite simply, a boat and a captain. There is no special license or paperwork required to charter a boat. The captain is your ticket to ride the Caribbean Sea which is why you'll usually see an added "captain's fee". For British Virgin Islands destinations, all passengers are required to have passports to clear customs, but a passport is not necessary for charters that remain in U.S. waters which offer plenty of cays, beaches, and reef spots to explore. The captain's fee, gratuities, fuel costs, customs fees, and some restaurants and bars are cash only, so you will want to have plenty of cash to be safe. Plan to bring your swimsuit, towels, and cream sunscreen (sprays are not permitted for deck safety). Coolers are available for stocking with your favorite beer and snacks. And of course you won't want to forget your camera or iPod to stream those island jams onboard!
What is included with a boat rental? How about the Caribbean Sea?That's right, the best part of renting a boat is the fully customizable itinerary. While you may not be the captain, you're definitely calling the shots, so you and your party can choose all the beach stops, Snorkeling Spots, and bar hops you want! Snorkel gear and instruction is complementary to keep your charter packing list low and your wildlife encounters high. Safety gear is always provided along with storage options for your belongings. Rentals may feature culinary inclusions from water and beer on a 35ft Powerboat Charter to breakfast and an open bar on a 44ft Power Catamaran Charter.
Where can I go with a boat rental? St. John, Jost Van Dyke, Virgin Gorda? Yes, yes, and yes! What about that floating bar, The Willy T, or the pizza boat? Yes again! With your fully customizable itinerary and passport-ready group, there's no limit to where any charter can take you in the Virgin Islands! Hitting the high seas with a bunch of beach bums? Make it a day of beach hopping from famous St. John shores to your personal beach on an uninhabited island. Looking for some aquatic adventures? Visit the cave at Devil's Bay in Virgin Gorda and snorkel the Indians off of Normal Island. Stop at popular beach bars and restaurants or make it a day of reef stops for snorkeling. The sea's the limit! Keep in mind the added cost of fuel and that passports are required for all passengers to leave U.S. waters when planning your island adventuring.
How many passengers can the boat accommodate? Boat rentals can accommodate almost any party size; it all depends on the size of the boat you charter. A 32ft Powerboat Charter will comfortably hold up to 8 passengers with wrap around seats, chaise lounges, and sun shading. A 35ft Powerboat can accommodate up to 12 passengers with bench and open bow seating and storage options. Large Parties, have no fear! The 44ft Power Catamaran holds up to 32 passengers with bench seating and a party-barge style ride.
How long can does a boat rental last? Full day rentals last an adventure-filled 8 hours from morning to sunset regardless of your vessel size and destination choices. A Half-Day Charter is available on a 32ft powerboat for 4 hours of exploring the U.S. Virgin Islands, perfect for cruise shippers!
What about sport fishing? If you're looking to reel in some wahoo or mahi off St. Thomas, a number of great sport fishing charters are available. Wahoo season is in the winter and early spring, while mahi are year-round residents of the islands. Sport Fishing Magazine has a great article on fishing the Virgin Islands, so check it out for more details on fishing charters, locations and the best seasons for sport fishing in the Caribbean.
Honeymooners, families, wedding parties, and even corporate events, there's a boat charter for everyone. Get with your group and start planning your day of snorkeling adventures and island explorations! Easy to book and unlimited possibilities, your St. Thomas boat rental will be the highlight of your vacation!
Be sure to check out our blog article on A Local's Guide to St. Thomas: Boat Rental Itineraries, and visit our Boat Rentals page to book the best boat rental excursions on St. Thomas! If you have any questions about St. Thoms boat rentals or any inquiries about the island, call or e-mail us for authentic local insight!
Hit the High Seas,
Nishant
CaribbaConnect Mentioned Excursions: