A Local's Guide to St. Thomas: Top 5 Snorkeling Shore Excursions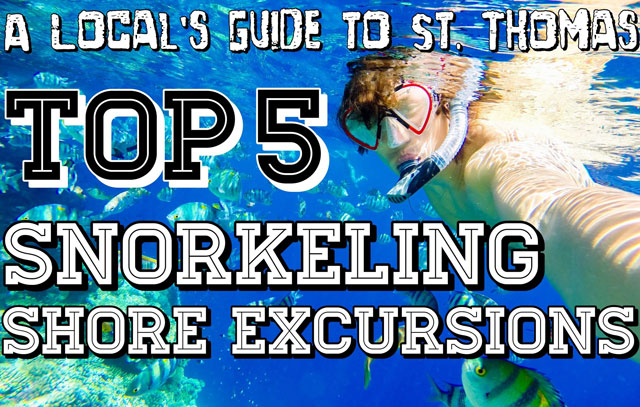 One of the best parts of cruising in the Caribbean is experiencing the exotic snorkeling locations found throughout the islands, and snorkeling is sure to provide the highlights of your cruise's St Thomas shore excursions. With sea turtles, stingrays, unique coral reefs, and schools of colorful fish abounding, you'll find the best snorkeling spots in St. Thomas and St. John on your Caribbean cruise! But how do you know which snorkeling excursions will give you the excursion of your dreams? Trust a local! I've grown up in these waters and can say from experience that these top 5 snorkel excursions will give you the snorkeling experience you've been anticipating on your day in the USVI, and they're perfectly suited for your cruise ship schedule!
Honeymoon Beach Watersports Package- If you're looking for an extra dose of adventure on your port day in St. Thomas, take the ferry over to St. John, walk around the quaint little town of Cruz Bay, and hike on over to the breathtaking Honeymoon Beach. This watersports package includes access to standup paddleboards, kayaks, beach chairs, float mats, and of course, snorkeling gear. Explore the crystal clear waters of St. John and encounter the vibrant protected reefs of the St. John National Park. Join a school of fish for a while and rejoin the land lovers for a sun bumming afternoon before heading back to your ship. This St. John snorkeling excursion has something for everyone!
Sightseeing and Beach Tour- The perfect balance of incredible sights both above and below the water is found on a sightseeing and beach tour visiting one of the top snorkeling beaches in St. Thomas. Stop at all the best photo spots on island, take in the breathtaking views, and spend the afternoon snorkeling among schools of fish at Sapphire or Coki Beach. Both beaches offer watersport rentals, abundant coral and marine life, and spectacular snorkeling sights. This island tour is perfect for families with a wide age range, large groups, and those looking to truly sample the best of St. Thomas!
Mangrove Lagoon Snorkel and Kayak Ecotour- Explore one of the most exotic St Thomas snorkeling excursions, the mangrove lagoon. You'll discover incredible coral growths among the one-of-a-kind mangrove trees, unique fish havens, and a marine environment unlike anywhere else in the Virgin Islands. Expand your tour to include exploration of the uninhabited Cas Cay for fantastic above-water sights such as the large hermit crab population and geological blowhole. Make it a full day, 5 hour adventure, to include extra time for snorkeling, Kayaking, hiking, and even lunch! Choose the St. Thomas Eco Tour that's perfect for you and your family's level of endurance and have an experience that's truly unique in the mangrove lagoon!
Half-Day Powerboat Charter- Hit the high seas and the snorkeling highlights of the USVI on an exhilarating powerboat ride across the Caribbean Sea. Grab lunch at one of our famous beach bars, visit uninhabited islands, and fill your day in port with the best Snorkeling in St. Thomas and St. John. Snorkel top spots such as Water Lemon Cay in St. John, known for its fantastic coral and abundant marine life, and Buck Island in St. Thomas, where you're sure to swim with a sea turtle or two! You call the stops on this customizable private Boat Excursion.
Half-Day Sail and Snorkel- Experience the best of the Caribbean above and below the sea with a sail and snorkel! Enjoy a leisurely catamaran sail at your choice of a morning or afternoon departure complete with snacks and open bar. Snorkel gear and instruction is included, and your captain will take you to the best reef spots off the shore of St. Thomas. Snorkel among the large untouched reef found only in open waters and spot larger marine life such as the majestic spotted eagle ray. Upgrade your tour to include lunch and a visit to Honeymoon Beach in St. John on a Half-Day Sail and Snorkel with Lunch. This half-day sail is the perfect cruise excursion for Large Groups, families with small children, and anyone looking for the ideal day at sea!
Take the guesswork out of planning your St Thomas shore excursions, and get ready for the aquatic encounters you've been waiting for! Purchase or rent an underwater camera to capture the incredible moments you're sure to have swimming among bright tropical fish and coral of all shapes and sizes while snorkeling in the USVI. Your fantastic snorkeling adventure awaits!
Be sure to check out our blog article on A Local's Guide to St. Thomas: Know Before You Cruise, and visit our Shore Excursions page to book the best shore excursions in St. Thomas! If you have any questions about snorkeling excursions or any inquiries about the island, call or e-mail us for authentic local insight!
Explore Under The Sea,
NIshant
CaribbaConnect Mentioned Excursions:
Half-Day Sail and Snorkel with Lunch
Mangrove Lagoon Snorkel and Kayak Tour
Mangrove Lagoon and Cas Cay Ecotour
Mangrove Lagoon and Cas Cay Ecotour with Lunch