A Local's Guide to St. Thomas: Top 5 Shore Excursions for Large Groups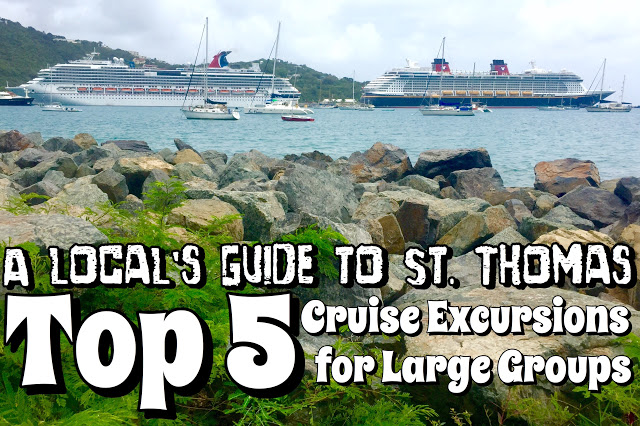 Travelling with groups can be quite an adventure to say the least. Whether you're bringing the neighborhood or the whole family, when there's 10 or more people making food decisions, coordinating schedules, and especially finding cruise excursions to entertain the whole group, it can be a real challenge. St. Thomas will be your best friend when it comes to cruise ports with its selection of Large Group Excursions from beach bumming to island adventures. Let St. Thomas welcome your group to the best day of your cruise with these top 5 Shore Excursions for large groups:
Half-Day Sail-Sailing the Caribbean Sea, snorkeling tropical reefs, and flowing drinks from the onboard open bar, the whole gang will love a half-day sailing adventure! With plenty of covered and open air seating and perfect timing for your cruise schedule, a half-day sail will perfectly accommodate and delight your group featuring incredible views and St Thomas Snorkeling spots. Snorkel gear, instruction, open bar, and snacks are all included with your sail. An extended version of this sail is also available to visit Honeymoon Beach in St. John for some shore time with an included full lunch on a Half-Day Sail with Lunch to feed the whole group and hit a neighboring island. From sun-soaking with a fresh cocktail to exploring the reef and swimming with sea turtles, there's something for everyone in your group to enjoy on a half-day St. Thomas Sailing excursion!
Ecotour- Take a journey through the St. Thomas mangrove lagoon on a group kayak, hike, and snorkel Eco Tour. Your group can pair up in the 2 person kayaks as you explore the rare mangrove trees that grow in this salt lagoon, providing a haven for unique marine life to flourish. The uninhabited island of Cas Cay is your destination where your group will hike to its shell beach and volcanic cliffs for breathtaking natural sights. Snorkel the clear lagoon waters surrounding Cas Cay where you'll see the unique ecosystem of the saltwater mangrove trees and the coral and marine life that dwell among their roots. Extend your tour to include lunch for the group and more time for swimming with the tropical fish on a Mangrove Lagoon and Cas Cay Ecotour with Lunch. Your group will love this exotic ecotour full of sights and encounters they'll never forget!
Private Sightseeing Tour- Enjoy the island music in your private tour vehicle as you see the best of the St. Thomas Sights! Your personal driver for the day will take you and your group to the highlights of the island including overlook points with spectacular views for those group selfies and a stop at Mountain Top, St. Thomas' mega souvenir store serving famous banana daiquiris. Add in some shopping time and score amazing duty free deals on jewelry, liquor, and more with a Private Sightseeing and Shopping Tour. Avoid the crowded island tour scene and lines for the perfect photo spot. Your friendly certified tour guide will show your group the best St. Thomas has to offer all at your own pace!
Private Beach Hopping Tour- People cruise to the Caribbean for the crystal clear seas, white sand beaches, and ever flowing umbrella drinks. If you just can't get enough of it, a beach hopping tour is perfect for your group. Hit 3 of the Beaches in St. Thomas, yours to choose based on Snorkeling Spots, watersport rentals, plenty of amenities, or simply a quiet spot for you all to unwind a while. Choose a little of each! The itinerary is yours to set! Do some sightseeing with your beaching on a Private Sightseeing and Beach Stop Tour for a sampling of the best of both worlds. You and your group will love soaking up the sun, sand, and Caribbean Sea at the best of St. Thomas' beaches!
Private Power Catamaran Boat Rental- With accommodations for up to 32 guests, an open bar, and complimentary snorkel gear, this power cat charter is a party barge all to yourself! Explore the USVI waters as you wish with beach stops in St. John or snorkeling the reef surrounding the uninhabited cays scattered between the islands. If the whole group has passports, make the trek down the British Virgin Islands chain to exotic snorkeling locations such as the Indians, visit the famous Willie-T's floating restaurant and bar, or lounge at beautiful White Bay in Jost Van Dyke. Have an adventure at sea filled with fantastic snorkeling, breathtaking island views, and plenty of cocktails the whole group will love!
Don't settle for trying to coordinate taxi rides or breaking up the group. Play together, take those epic group selfies, and make memories that will last a lifetime! Embrace the incredible adventures that await your group on your cruise to St. Thomas!
Be sure to check out our blog article on A Local's Guide to St. Thomas: Know Before You Cruise, and visit our Shore Excursions page to book the best shore excursions on St. Thomas! If you have any questions about St. Thomas excursions for large group or any inquiries about the island, call or e-mail us for authentic local insight!
Adventure Together,
Nishant
CaribbaConnect Mentioned Excursions:
Half-Day Sail and Snorkel with Lunch
Mangrove Lagoon and Cas Cay Ecotour
Mangrove Lagoon and Cas Cay Ecotour with Lunch
Private St. Thomas Sightseeing Tour
Private St. Thomas Sightseeing and Shopping Tour
Private St. Thomas Beach Hopping Tour
Private St. Thomas Sightseeing and Beach Stop Tour