Honeymooning in the Caribbean Islands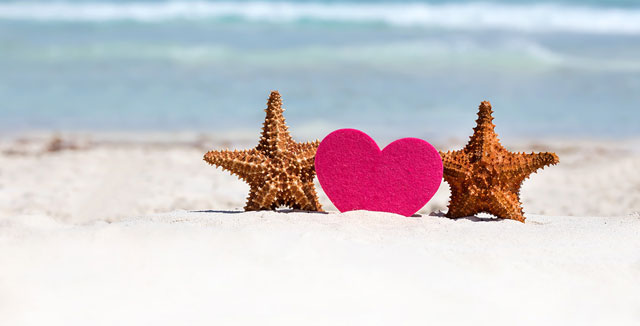 After tying the knot, you want to be whisked away on an amazing honeymoon where you and your new spouse can enjoy one another's company and relax. What better option than honeymooning in the Caribbean islands? Let the warm sun, white sand beaches and azure waters bring you closer together and wash away your cares. When it comes to honeymooning in the Caribbean islands, the US Virgin Islands stands out as one of the top choices.
Why Choose the US Virgin Islands?
Why opt for the USVI over one of the other Caribbean islands? There are plenty of reasons, but one of the most compelling is that US citizens don't need a passport to visit, since it's a US Territory. Of course, there are lots of other reasons, including duty free shopping, luxurious resorts, and some of the friendliest people you'll ever meet.
Where to Go in the USVI
Honeymooners have plenty of choices when they land in the US Virgin Islands. The territory is made up of many different islands, islets and cays. The three largest are St. Thomas, St. Croix and St. John. For honeymooners, St. Thomas and St. John stand out.
St. John's nickname is "Love City". Most of the island is actually a protected national park, which means you can stroll through the hills and across the beaches without worrying about towering buildings blocking your sun, or throngs of tourists cascading down to the water and ruining your privacy. St. John's most popular with honeymooners for just that reason. Well, in addition to its amazing beauty, of course.
St. Thomas is the most developed of the US Virgin Islands, and you'll find plenty of ways to while away your honeymoon here, as well. Visit Magens Bay, or make reservations at the Ritz-Carlton. Make sure to walk to the top of Charlotte-Amelie and enjoy the view, and then relax on one of the island's numerous white sand beaches. Make sure you visit Drake's Seat, but do it at sunset for a less crowded, more romantic experience.
If you're planning a honeymoon trip to the Caribbean islands, make sure that the US Virgin Islands are at the top of your list. Whether you want to indulge your senses on the warm white sand beaches, snorkel or scuba dive, or investigate the many shopping opportunities, you and your new spouse will have the time of your life.