A Local's Guide to Virgin Gorda: Getting to the Island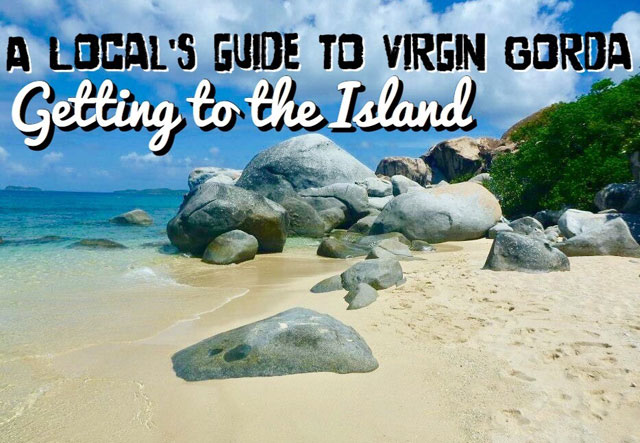 The Virgin Islands are full of beauty and wondrous sites, breathtaking crystal clear beaches, colorful coral reef teeming with life, but perhaps the most prized of all is The Baths at Virgin Gorda. Immersing yourself in this incredible natural wonder and all that Virgin Gorda has to offer is the perfect choice for a paradise escape! Of course it takes a little extra effort to truly get off the grid, and Virgin Gorda is no exception. My local guide will simplify your decision making and help you select the best route for getting to your idyllic Virgin Gorda vacation.
The Airport- Virgin Gorda is accessible by plane through its small regional airport. Taddy Bay Airport accommodates small regional jets and charter flights from a hub city such as St. Thomas, VI, or San Juan, PR, that connect to Virgin Gorda. Flying into Taddy Bay is the most direct route to Virgin Gorda, but travelers should note that the flight to the island will offered in limited time slots on a very small plane. Flying in will cost significantly more than connecting via ferry service as well, so these are all things to consider before just booking a flight. Flights are also available to Tortola with connection on a ferry but know that flights to Tortola will offer similar challenges. Adding a night in the hub city before and after your flight to Virgin Gorda can really help ease travel stress and enhance your vacation with more destinations to explore. For your convenience we have listed some local airlines that offer service to Taddy Bay Airport:
Air Sunshine (From Puerto Rico and St. Thomas)
Cape Air (From Puerto Rico)
The most affordable option for getting to the island is to fly into St. Thomas, USVI, and connect to Virgin Gorda by ferry. Direct flights are available through traditional commercial airlines from select cities to St. Thomas, and many folks will take advantage and spend some time in the USVI before and/or after their visit to Virgin Gorda. When flying to St. Thomas, you will quickly learn the quirks of island travel when you arrive at Cyril E. King airport (STT). Perhaps for the first time ever, you will exit the plane via a set of stairs (keep that in mind with your carry-on luggage), and you will be greeted with a free shot of local Cruzan rum (enjoy)! There is only one area for baggage claim where you'll wait for the carousel. From there, you have a couple of options to get to the ferry terminal or your hotel for the night. Taxi service is the standard form of transportation to get from the St. Thomas airport to the Virgin Gorda ferry. However between waiting on luggage, being herded into a large van, waiting for it to fill with other passengers and their luggage, taxi fares and bag fees, and all their stops on the way to the ferry, arranging for Private Airport Transportation will make the start of your journey to Virgin Gorda significantly more efficient and enjoyable with a private vehicle and friendly personal driver, and pricing is comparable with no luggage fees!
The Ferries- There are two ferry terminals in St. Thomas, the Charlotte Amalie ferry and the Red Hook ferry. The St. Thomas airport is just outside of Charlotte Amalie, so you will be closest to the Charlotte Amalie ferry. From Charlotte Amalie, St. Thomas, to Virgin Gorda, the ferry runs on Tuesdays and Thursdays at 8:45am and 5pm and Saturdays at 4pm. Average fares are $40 per person one way or $70 per person for a round trip ticket. The ride is 90 minutes long. Returns are offered at 6:30am and 2:45pm on Tuesdays and Thursdays and 8:30am on Saturdays. The Red Hook ferry runs on Thursday and Sundays at 8am and returns at 3pm on the same days. Red Hook fares average $70 per person one way or $90 per person roundtrip with the same ride time. From any ferry terminal, you should arrive at least 15 minutes prior to departure to comfortably have time to get tickets and board the vessel, and Private Airport Transportation is another way to guarantee you'll be comfortably on time for the ferry. For your convenience we have listed some ferry services that offer service from St. Thomas directly to Virgin Gorda and those that offer service via Tortola:
Speedys (Has Direct Ferry Service to Virgin Gorda 2 days a week.)
Inter Island Ferry (Has Direct Ferry Service to Virgin Gorda 2 days a week.)
Smith's Ferry/Tortola Fast Ferry (Has routes via Road Town, Tortola)
If you are having trouble lining up a flight itinerary with the St. Thomas to Virgin Gorda ferry schedule, planning to spend a night or two in St. Thomas will add more island time to your vacation and reduce your connection worries. One option to get straight from St. Thomas to Virgin Gorda without having to spend the night is to hire a water taxi which can be arranged to suit your schedule. Ferries also run multiple times a day from Road Town, Tortola, to Virgin Gorda typically until about 6pm, so flying directly into Tortola or ferrying from St. Thomas to Tortola and connecting are options as well. Once you're on the ferry, the journey to your island is almost over, and it's time to take a deep breath, take in the island views, and let your Virgin Gorda vacation begin! For your convenience we have listed some water taxi services that offer service from St. Thomas to Virgin Gorda:
BVI Watertaxi & Tours
Dohm's Water Taxi
See & Ski Water Taxi
St Thomas Water Taxi
Whether you plan to fill your vacation with exploring the Baths and natural wonders of the BVI or simply relaxing with a cocktail and enjoying being off the grid, Virgin Gorda offers the best of both worlds and plenty in between! You will soon discover that your personal piece of paradise was well worth the journey to find it!
If you have any questions about flying in or ferrying to Virgin Gorda or any inquiries about the islands, call or e-mail us for authentic local insight.
Escape to Virgin Gorda,
Amit
*Please note that we make our best effort to keep pricing up-to-date, but it is subject to change without our notice.