A Local's Guide to Tortola: Getting to the Island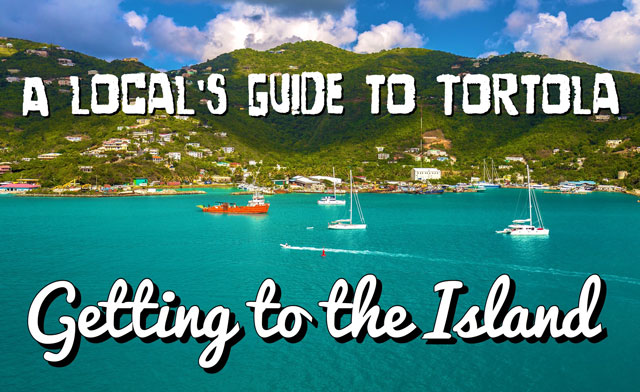 Finally you narrowed it down to the perfect paradise destination, the island of Tortola, after all the weeks of searching through tropical vacations! The British Virgin Islands are full of white sand beaches, thriving coral reefs for snorkeling and diving, and vibrant island culture. As the capital and largest of the BVI, Tortola is the perfect island to escape for shopping, sailing, island hopping, relaxing, and more! So what's the next step to get you ready and island bound? As with the islands themselves, there are some quirks to getting to Tortola, so here's everything you need to know to decide which route to the island is the best for you.
Airports- The main airport for the BVI, Terrence B. Lettsome Airport, is located on Beef Island, just off the coast of Tortola. While it is an international airport, it does not accommodate commercial airlines which means you will have to connect at a nearby hub and take a regional flight to Tortola through a local airline. Flying is the most direct route to the island, but it's important to note that flights from a hub city such as San Juan or St. Thomas to Tortola will be on a smaller plane, cost significantly more than connecting via ferry service, and offer a limited schedule of flight itineraries. Adding a night in the hub city before and after your flight to Tortola can really help ease your vacation's travel stress and enhance your itinerary with more destinations to explore! For your convenience we have listed some local airlines that offer service to Terrence B Lettsome Airport:
Air Sunshine (From Puerto Rico and St. Thomas)
Cape Air (From Puerto Rico and St. Thomas)
LIAT (From Puerto Rico and St. Thomas)
Seaborne Airlines (From Puerto Rico)
The most affordable and thereby most popular option for getting to the island is to fly into St. Thomas, USVI, and ferry over to Tortola. Direct flights are available from select cities through traditional commercial airlines to St. Thomas, and many folks opt to spend some time visiting St. Thomas before and/or after their Tortola vacation to sample the US Virgin Islands as well. When flying to St. Thomas, you will quickly learn the quirks of island travel when you arrive at Cyril E. King airport (STT). Perhaps for the first time ever, you will exit the plane via a set of stairs (keep that in mind with your carry-on luggage), and you will be greeted with a free shot of local Cruzan rum (enjoy)! There is only one area for baggage claim where you'll wait for the carousel. From there, you have a couple of options to get to the ferry terminal or your hotel for the night. Taxi service is the standard form of transportation to get from the St. Thomas airport to the Tortola ferry. However between waiting on luggage, being herded into a large van, waiting for it to fill with other passengers and their luggage, taxi fares and bag fees, and all their stops on the way to the ferry, arranging for Private Airport Transportation will make the start of your journey to Tortola significantly more efficient and enjoyable with a private vehicle and friendly personal driver, and pricing is comparable with no luggage fees!
The Ferries- There are two ferry terminals in St. Thomas, the Charlotte Amalie ferry and the Red Hook ferry. The St. Thomas airport is just outside of Charlotte Amalie, so you will be closest to the Charlotte Amalie ferry. The Charlotte Amalie ferry runs to Road Town and West End, Tortola, daily with average fares of $35 per person one way or $60 per person for a round trip ticket. The ride is 50 minutes long and departure times vary each day. The Red Hook ferry only runs to West End, Tortola, from St. Thomas daily with similar fares and ride time. Ferry services to Tortola stop around 5pm, so you will want to plan on staying in St. Thomas if your flight comes in later. Hiring a water taxi from St. Thomas is also an option to avoid staying the night and get straight to Tortola if you have a late flight. Since you flew into the St. Thomas airport, you may want to purchase a round-trip ferry ticket to have one less thing to worry about on your return trip, but be careful to note if your ticket picks up in West End or Road Town and drops off in Red Hook or Charlotte Amalie. From either St. Thomas ferry terminal, you should arrive at least 15 minutes prior to departure to comfortably have time to get tickets and board the vessel, and Private Airport Transportation is another way to guarantee you'll be comfortably on time for the ferry. Once you're on the ferry, the journey is almost over, and it's time to take a deep breath and take in the island views for your Tortola vacation to begin! For your convenience we have listed some ferry companies that offer service to Tortola from St. Thomas:
Native Son
From: Red Hook Ferry Dock and Charlotte Amalie Ferry Dock
To: West End and Road Town
Road Town Fast Ferry
From: Charlotte Amalie Ferry Dock
To: Road Town
Smith Ferry/Tortola Fast Ferry
From: Charlotte Amalie Ferry Dock
To: West End and Road Town
Inter Island Ferry
From: Red Hook Ferry Dock
To: West End
We have also listed some water taxi companies that offer service from St Thomas to Tortola:
BVI Watertaxi & Tours

Dohm's Water Taxi

See & Ski Water Taxi

St Thomas Water Taxi
Whether you fly into Beef Island or ferry over to Tortola, your Virgin Islands vacation is sure to be everything you dreamed and more. Get ready to unplug and immerse yourself in paradise as you let the warm Caribbean waters and breathtaking scenes of Tortola take you away!
If you have any questions about flying in or ferrying to Tortola or any inquiries about the islands, call or e-mail us for authentic local insight.
Escape in Tortola,
Amit
*Please note that we make our best effort to keep pricing up-to-date, but it is subject to change without our notice.