Top 10 St Thomas Cruise Excursions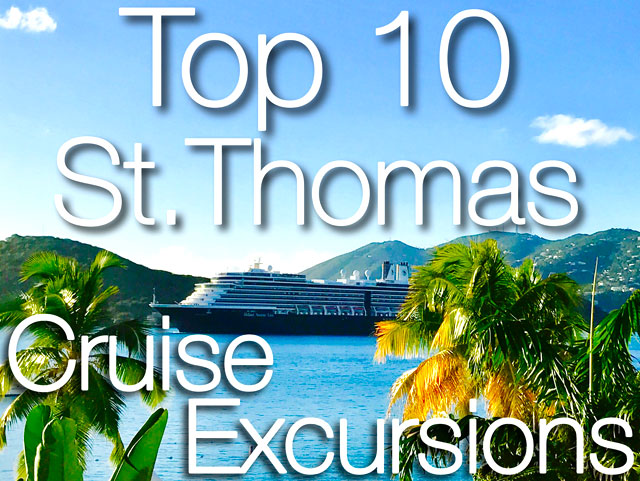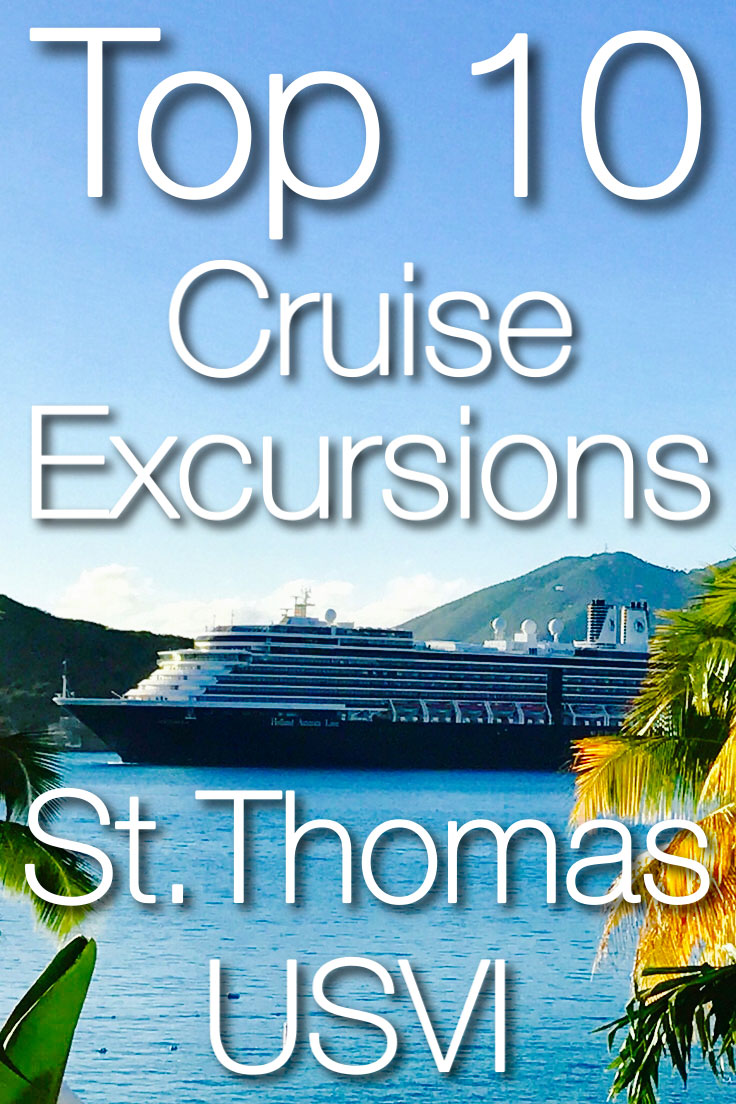 No matter which cruise line you are sailing on to St. Thomas (Carnival, Disney, Princess, Norwegian, Royal Caribbean), you can save big bucks by booking your cruise excursions in St Thomas through a local vendor. Enter CaribbaConnect! We are island experts, and all of our cruise excursions and tours are the best in the business! By booking through us, you will get the same excursion or a better version than your cruise line is offering at an even better value! With our handpicked St Thomas cruise excursions, you are guaranteed to get the best price and the best experience catered around your unique cruise ship schedule, so you don't have to worry about missing the boat. To make your booking process even easier, simply click on your favorite from the top 10 best St Thomas, Virgin Islands cruise excursions and get ready to have the time of your life on your day in port!
10. ISLAND TOUR WITH BEACH STOP IN ST THOMAS- A visit to St. Thomas wouldn't be complete without a trip to the beach and plenty of photos to brag about to your friends back home. Take postcard perfect photos at all the top sightseeing spots on the island as you discover the history and culture of St. Thomas from your entertaining tour guide. Then take your pick of one of the top beaches on island where you can swim, snorkel, enjoy an umbrella drink, or sample the watersports. This tour picks up directly from your cruise port for 4-5 hours of sightseeing, beach lounging, and the perfect amount of island time for your cruise schedule!
9. ST. THOMAS FOOD TOUR: HISTORIC MAIN STREET- Walk the historic streets of Charlotte Amalie in the most delicious way on a food tour of downtown St. Thomas! Experience and learn about historical sights such as Fort Christian and the famous 99 steps as your guide takes you on a cultural food journey featuring Caribbean specialities like johnnycake, pate, and callaloo served from local hidden gems! From your cruise port, take a scenic 30 minute stroll or catch a 5 minute taxi ride to Main Street to embark on this 2.5 hour taste of St. Thomas!
8. HALF DAY SAILING TOUR TO ST JOHN WITH LUNCH- Sail away to our beautiful sister island of St. John for an afternoon trip to Honeymoon Beach, one of the top beaches in the USVI, complete with a perfectly light buffet lunch, very open bar and all your snorkel gear! Admire the vibrant coral reefs, and swim with tropical fish and unique marine life such as sea turtle and rays at the amazing snorkel stops along the way. Lay out on the sun deck or enjoy the breezy shade as you take in the island views and enjoy this relaxing day at sea! To board this half day trip, simply taxi to Sugar Bay Resort and set sail!
7. PADI DISCOVER SCUBA DIVING IN ST THOMAS- There's no certification or past experience required for you to try scuba diving in St. Thomas! A quick 30 minute lesson and practice session off the beach is all you need to dive at awesome reefs sites at Coki Point. Your PADI certified Scuba Instructor will take you on a guided tour under the sea where you will get up close with rainbows of tropical fish and unique marine life as deep as 40 feet! When you discover your new love for scuba diving, this session will even count towards your future PADI certification! Experience this underwater excursion by choosing a tour time that fits your cruise schedule. When you arrive at the cruise port, ask for a taxi ride to Coral World and dive in!
6. ST. THOMAS PRIVATE SIGHTSEEING AND BEACH EXCURSION- Take a party ride to all the island highlights in your private vehicle for the day! Start your morning with breathtaking views at all the ideal photo spots where your private driver will be happy to snap your family pics. Enjoy some tax free shopping or have a local lunch of Caribbean cuisine. Your private tour is catered to your desires and your schedule! Choose from one of the top beaches on island to spend your afternoon relaxing, snorkeling, and soaking up the sun in the turquoise waters of the Caribbean Sea. This tour picks up from your cruise port and is an all day excursion featuring the best of the sea and the shore!
5. PARASAILING ST THOMAS: U.S. VIRGIN ISLANDS- Take off on a thrilling ride over the crystal Caribbean Sea as you capture St. Thomas and the nearby islands from a bird's eye view! With a thrilling hour of adventure that combines the thrills of powerboating, parachuting, ballooning, and gliding, it's no wonder parasailing is one of the top cruise excursions in St Thomas! If your cruise ship comes in on Monday, Tuesday, or Wednesday, you can leave straight from the Havensight cruise port. If your ship comes in another day of the week or docks at Crown Bay Marina, you can still experience this top excursion with a short taxi ride to Sapphire Marina.
4. ST THOMAS MANGROVE LAGOON AND CAS CAY ECOTOUR- Hike, kayak, and snorkel to amazing locations on this nature tour that has it all! Kayak through the St. Thomas Mangrove Lagoon and discover the unique habitat it provides for wildlife above and below the sea. Hike the deserted island of Cas Cay as you admire its shell beach, red cliffs, and awesome views. Snorkel among the mangrove roots and get up close with rare coral growths and marine life! To experience this exotic ecotour, choose a departure time that works with your ship schedule and catch a taxi when you arrive at your cruise port to the Mangrove Lagoon Marina.
3. ISLAND TOUR WITH SHOPPING AND BEACH STOP IN ST THOMAS- Get on island time and sample all the highlights on this party ride that's one of the most popular St Thomas cruise ship excursions! Shop and explore in Downtown Charlotte Amalie which is rich in history and in tax free deals on jewelry, liquor, apparel, and more! Snap breathtaking photos of island views from all the best lookout points. Then spend your afternoon with a cocktail in hand at a famous turquoise St. Thomas beach! This 5-7 hour tour picks up right from your cruise port and is adjusted to suit your ship schedule.
2. 32FT POWERBOAT ADVENTURES HALF DAY CHARTER: ST THOMAS & ST JOHN- Snorkel, swim, or soak up the sun on a party boat! You call on the shots on this half-day USVI charter. Head over to St. John, island hop to small cays, snorkel with sea turtles, or sample it all! Your boat is fully equipped for an awesome day on the Caribbean Sea for up 8 passengers! To set sail on this charter, simply hop on a waiting taxi as you exit your ship and ask for Saga Haven Marina where your boat will be waiting. Departure and return times for this half day trip can be adjusted to accommodate your ship's schedule.
1. PRIVATE 35FT BOAT CHARTER: FULL DAY- Board this boat rental for a day of custom island fun on the water for up 12 passengers! Island hop to nearby British Virgin Islands, swim at the pristine beaches of St. John, snorkel at top spots in the Virgin Islands. The best part of this powerboat is that you plan your trip! Your expert captain will help you find the spots that are just right for your dream day on the Caribbean Sea! This charter picks up from Saga Haven Marina in St. Thomas. Simply hop on a waiting taxi as you exit your ship, and they will bring you right to your charter. Departure and return times for this all day boating adventure will be adjusted to accommodate your unique cruise schedule.
When you book locally through CaribbaConnect, you can be sure you are in good hands no matter which cruise line you visit on (Carnival, Disney, Princess, Norwegian, Royal Caribbean). Get ready to experience St. Thomas in the best way! With one of our top cruise ship excursions, St Thomas is sure to be your favorite port on your Caribbean cruise!
Be sure to check out our St Thomas Shore Excursions Guide and visit our Shore Excursions page to discover all the cruise excursions St Thomas has to offer! If you have any questions about St Thomas cruise ship excursions including whether or not a specific tour is right for your cruise schedule or if you have any inquiries about the island, call or e-mail us for authentic local insight!
Book the Best,
Amit
CaribbaConnect Mentioned Excursions:
ISLAND TOUR WITH BEACH STOP IN ST THOMAS
ST. THOMAS FOOD TOUR: HISTORIC MAIN STREET
HALF DAY SAILING TOUR TO ST JOHN WITH LUNCH
PADI DISCOVER SCUBA DIVING IN ST THOMAS
ST. THOMAS PRIVATE SIGHTSEEING AND BEACH EXCURSION
PARASAILING ST THOMAS: U.S. VIRGIN ISLANDS
ST THOMAS MANGROVE LAGOON AND CAS CAY ECOTOUR
ISLAND TOUR WITH SHOPPING AND BEACH STOP IN ST THOMAS
32FT POWERBOAT ADVENTURES HALF DAY CHARTER: ST THOMAS & ST JOHN