Carnival in the Caribbean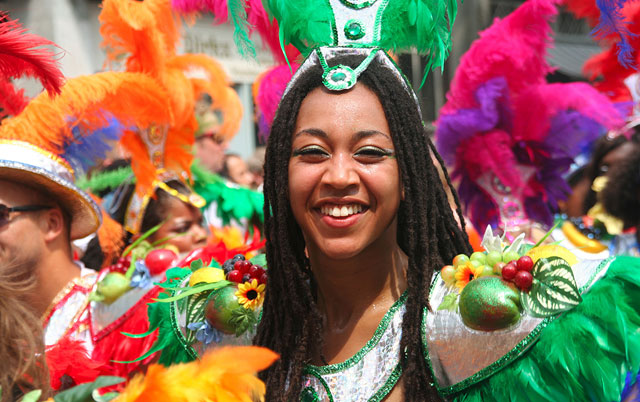 Carnival – the very word conjures images of colorful dancers, being carried away on the music of steel drums, street festivals, never-ending hot food and more. Carnival is an explosion of color and vibrant life, and you'll find that there's nowhere better to celebrate it than in the Caribbean. From Aruba to Antigua, Belize to Cuba, the US Virgin Islands to Belize, Carnival is one must-experience event for everyone.
What's It Like?
It's difficult to sum up Carnival. It means many different things to many different people, and each island has its own unique spin on this global tradition. In some areas, its closer to New Orleans' Mardi Gras, but in others, it's more akin to what you'll experience in Rio. It's also difficult to trace the history of this incredible event. Fat Tuesday predates Carnival, but is tightly bound to it. The first Carnival is thought to have taken place in the 1700s in Trinidad and Tobago. The end of slavery in the Caribbean (1800s) brought even more revelers to the streets.
Carnival is inextricably fused with the unique cultural celebrations found on different Caribbean islands. For instance, calypso hails from Dominica. Even the times during which Carnival is celebrated differ considerably. St. Thomas in the US Virgin Islands celebrates Carnival in April, while St Croix (also in the USVI) celebrates it in December and January. Antigua celebrates in August, while Bermuda's celebration is held in May. Jamaica parties in April, and Grenada takes to the streets in dance and song during August. Quite a few Caribbean islands have maintained the tradition of holding Carnival just before Lent, including Cuba, Dominica, Haiti, St. Barts and Trinidad and Tobago.
While that might sound confusing, it's actually good news for travelers. You can find Carnival going on during almost any portion of the year.
Planning a Trip for Carnival
If you intend to visit any of the Caribbean islands for Carnival, the most important tip is to plan early. This is the most popular event of the entire year, so book your flight and accommodations well ahead of time. Stock up early as well, because many restaurants and stores shut down during Carnival, and if you don't plan effectively, you'll be doing without. Finally, plan for long nights and little rest. Carnival is loud, and it doesn't stop until early morning. Plan for the noise and the constant revelry.