A Local's Guide to St. Thomas Fitness Excursions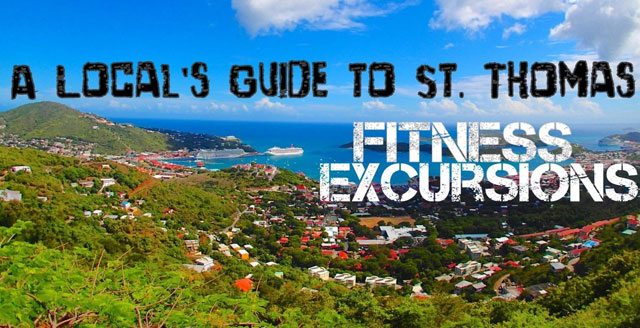 Whether you're an adventurous traveler or looking to ease that colada-consuming guilt, what better way to spend a day than with some fit fun on your visit to St. Thomas? As fitness awareness continues in an upward trend, active vacationing and fit excursions are becoming more popular for traveling destinations, and with its mountainous terrain and warm, welcoming turquoise waters, St. Thomas is no exception. If you're a cruiser looking to burn off some of that binge eating, St. Thomas has plenty of active shore excursions for both sea and land lovers that will give you that much-needed boost.
There are so many active things to do in St. Thomas from hiking tours to an afternoon of snorkeling, and I'm here to guide you through the many excursion options to find your perfect fit!



Snorkeling- St. Thomas Snorkeling is one of the top things to do because the coasts are home to vibrant coral growth and abundant marine life, providing the perfect balance of fit and fun to snorkeling excursions. If you're a beach bum, a St. Thomas Private Beach Hopping Tour or Public Sightseeing and Beach Tour will get you to the best beaches in St. Thomas where you can go snorkeling right off the shore. Looking for Group Friendly Tours? A Full Day Sail to St. John offers snorkeling stops for the adventurers and plenty of relaxation for the sun bums. If a little more action is what you desire, add some activity with a Kayak, Hike, and Snorkel Mangrove Lagoon and Cas Cay Ecotour for more remote St. Thomas snorkeling spots and extra calories burned.



Kayaking- Some of the most beautiful sites in the U.S. Virgin Islands can be found from remote cays and secluded bays. They're all within your reach; it just takes a little work. This is why we kayak. If you're willing to put in the arm work, you'll discover some of the best sights that the Caribbean has to offer and become part of a select group who have ventured to rare locations such as: Bird Island and Cas Cay. With St. Thomas Kayak Tours ranging from an hour and half to 5 hours with added hikes and snorkeling, you choose your level of endurance and adventure on your kayaking excursions.
Hiking- In St. Thomas, land and sea work in perfect harmony, so often a hike on the "road less traveled" leads to an incredible snorkeling spot or a kayak to a small cay provides an awesome hiking trail. Excursions in St. Thomas take full advantage of this partnership by adding some aquatic activity to hiking tours. These tours are for the adventurers and fitness enthusiasts. A Kayak, Hike, and Snorkel Tour last about 3 hours and is offered on uninhabited Cas Cay. For the thrill-seekers, a 5 hour tour with lunch from St. Thomas Mangrove Lagoon to Cas Cay is available for ultimate intensity.
Who says you have to gain weight on your vacation? Gain an incredible experience instead, and let the adventure get your heart racing and the sights of the beautiful U.S. Virgin Islands take your breath away through fitness excursions on your visit in St. Thomas.
Be sure to check out our Excursions page to book the best excursions on St. Thomas! If you have any questions about fitness excursions in St. Thomas or any inquiries about the island, call or e-mail us for authentic local insight!

Happy Trails,
Nishant
CaribbaConnect Fitness Excursions:
Public Sightseeing and Beach Tour
Kayak, Hike, and Snorkel Mangrove Lagoon and Cas Cay
Bird Island and Mangrove Kayak
Extended Kayak, Hike, and Snorkel Mangrove Lagoon and Cas Cay with Lunch