Shopping in San Juan Puerto Rico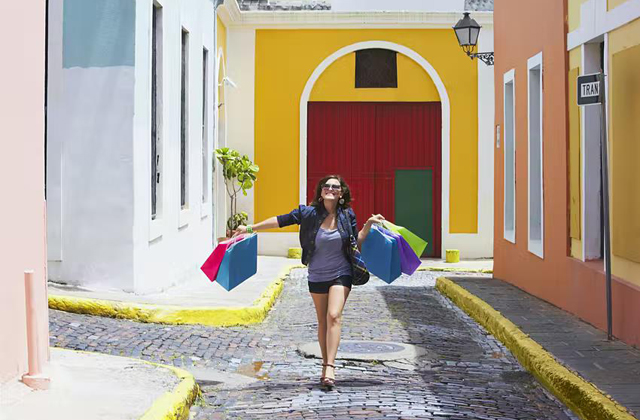 One of the best parts of visiting other countries for vacation is visiting retail stores, which in Puerto Rico is a paradise and an excellent shopping destination. From clothing and accessories to handmade art and food, is the most you will find in your vacation on the island. Puerto Rico is full of an abundance of talented creators, many of whom learned their craft from generations before them, whose work of art is an excellent souvenir for any family or friends, or even for yourself.
Puerto Rico has 22 shopping centers and malls, so if you're a shopaholic, consider going to one of those malls. The biggest and most famous shopping mall is Plaza las Américas (Plaza) located in San Juan, which has more than 250 stores including Macy's, and the largest JCPenney in the chain. Other prominent is Mall of San Juan, which has an exclusive variety of merchants, such as Louis Vuitton, Gucci, Coach, Tory Burch, Carolina Herrera, Holister, Zara, among others. And in the south of the island, Ponce, is located the shopping center, Plaza del Caribe. While you decide where to shop, here I will give you where you can find the best deals in your vacations in Puerto Rico. Keep in mind that the duty-free items such as perfume, liquor jewelry, and others can be found at the SJU airport.
Jewelry

Puerto Rico offers an essential saving on jewelry shopping, especially in black friday (November). San Francisco and Fortaleza Streets of Old San Juan are the spots for dazzling jewels found, also in Condado. In the big malls such as Plaza las Américas and Mall of San Juan you can find a lot of fine jewelry with a variety of excellent deals. If you're looking for a gift, a proposal ring, your next watch, or a particular piece you will find a lot of brands such as TIffany & Co., Swatch, Rolex, Blue Diamond, Tous, and more.
Gifts and Souvenirs

While shopping in your vacation, especially in tourist areas you'll find amazing souvenirs perfect for your family and friends. Excellent deals are found in Old San Juan, from clothing to glass shot or keychain, maybe deals like 'buy two blouses and get one free'. Authentic and ethically made products are meaningful souvenirs that have a pure meaning of the Puerto Rican culture and spirit, especially made by Puerto Ricans hands. If you are looking to take home a piece of the island for yourself, you'll find the perfect option in Old San Juan or even in a pharmacy, which preferably are located in a tourist area. After an excursion, you may have a close store who sells typical gifts, such as hats, traditional Puerto Rican candies, sunglasses, blouses, among others for everyone on your list, especially you. Take with you and yours something a reminder from your vacations in Puerto Rico!
KNOW - After your shopping in Puerto Rico, it's important to note that you must pass all your baggage through the inspection process. This inspection will be performed by officials of the United States Department Agriculture (USDA), located at the entrance of all the terminals through the airport.
Tobacco & Liquor

On your vacation, a Puerto Rican liquor cannot be missing in your final destination. You can find various stores, such as supermarkets, pharmacies, liquor stores, and even gas stations where you can buy your favorite liquor. The best exotic cigars you can find are in Old San Juan or Condado. The stores offer a large selection of premium cigar brands and exclusive blends for the cigar connoisseur. Also, Plaza las Américas has a big store where you can find a lot of cigars for your selection.
KNOW - As a general rule, the 11.5 percent import use tax is applicable to goods imported into Puerto Rico by any importer of record.
Have a happy time shopping in Puerto Rico!