Insider Review : St Thomas Sunset Kayak with Bird Watching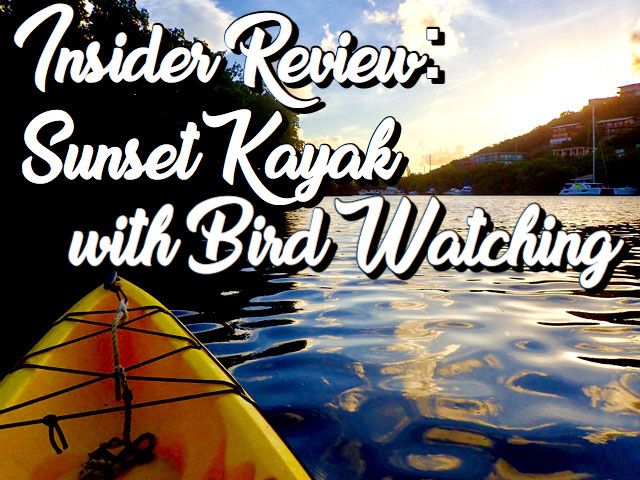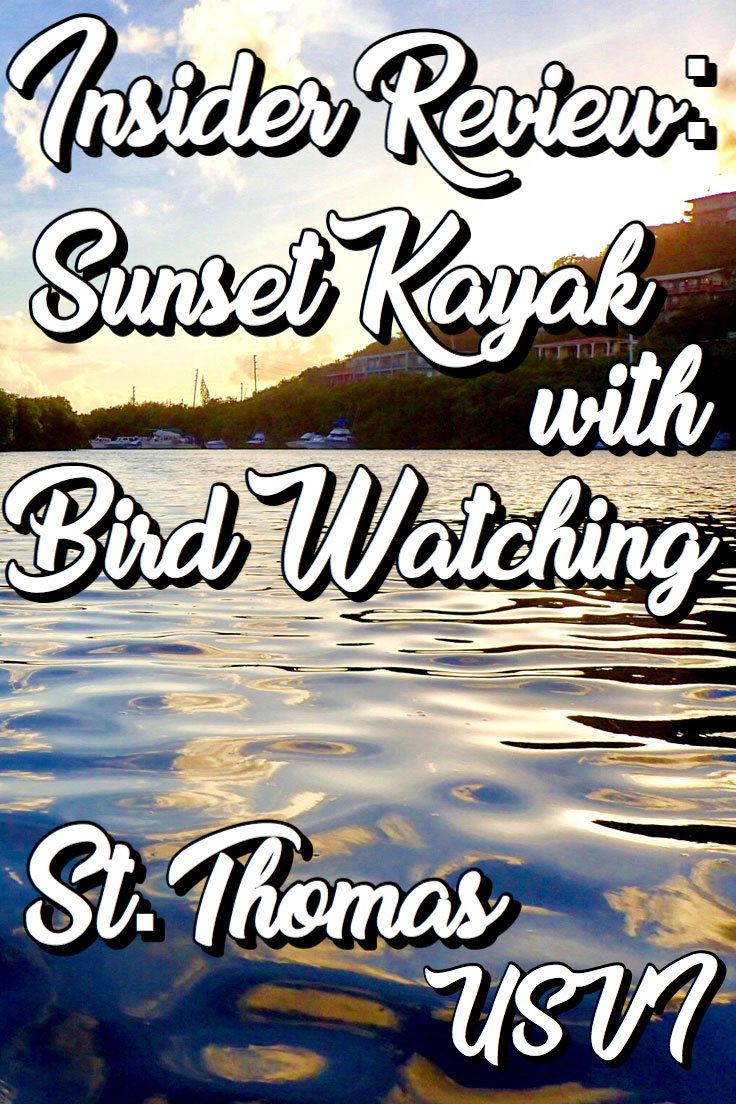 Nature lovers and bird watchers, this is the excursion of your dreams! My husband and I have kayaked through the St. Thomas mangrove lagoon more times than I can count, and even still, our guides on this Sunset Kayak Tour taught us so much about the amazing ecosystem found in this beautiful lagoon. We aren't bird watchers ourselves, but we really enjoyed seeing and learning about the amazing seabirds found in St. Thomas and spotting other wildlife too! Sit back, relax, and enjoy as I take you on a leisurely journey full of the exotic natural wonders found in St. Thomas!
Our tour began with Yosh (our guide) showing us a map of the lagoon. He explained the route for our tour, the small islands and cays we'd see along the way, and the wildlife we could expect to encounter.
With our fresh, complimentary bottles of water, we loaded up and set out to the mangrove lagoon!
Moments after setting out, Delron (our co-guide), spotted a brown pelican. We were able to get pretty close to him, and Yosh provided lots of fun facts about this large bird.
>> Click Here to book the Sunset Kayak with Bird Watching in St Thomas! >>
Yosh shared with us all of the amazing abilities of the mangrove trees and the unique ecosystem they create.
The water is so clear and shallow that he was even able to point out the unusual upside down jellyfish found throughout the lagoon.
I've always loved the mangrove trees because of the awesome coral growth you can find on their roots while snorkeling, but I had no idea how truly valuable they are to the island. Yosh explained that their clusters of flexible roots provide the perfect haven for boats during storms, and they even have the ability to create land.
>> Click Here to book the Sunset Kayak with Bird Watching in St Thomas! >>
All throughout the tour, Yosh and Delron pointed out unique wildlife above and below the sea with facts about everything we saw.
Like this mama iguana lounging on a branch.
And of course there were the birds, like this Little Blue Heron.
>> Click Here to book the Sunset Kayak with Bird Watching in St Thomas! >>
And the soaring Magnificent Frigatebird!
One of my favorite sights was the changes in the sunset as we made our way to Bird Island.
As we neared the little cay, we understood why it has locally been named, Bird Island. The leeward side of the island is full of birds of all kinds, and they return to this spot every evening to nest and seek shelter from predators and heavy winds. What an incredible sight!
>> Click Here to book the Sunset Kayak with Bird Watching in St Thomas! >>
After our visit to Bird Island, we headed into the marina to get up close with the Laughing Gulls who migrate to St. Thomas for a few months of the year. They really made themselves at home on this sunken boat- a real Finding Nemo moment!
One of the best parts about this tour is it's slow pace. As we headed in, we really were able to just take our time and admire the changing colors of the sunset.
The water was so still and calm as we peacefully paddled to my favorite part of every day, when the sun turns the Caribbean Sea into a sheet of silvery glass. We made it back to shore just before last light, a perfectly romantic end to our kayaking trip.
>> Click Here to book the Sunset Kayak with Bird Watching in St Thomas! >>
For couples who are bird watchers or nature enthusiasts, this excursion is the perfect blend of connecting with nature and romance, and it should be at the top of your St. Thomas to-do list! The laid back nature of this tour makes it perfect for kayakers of all ages and experiences, and I would highly recommend it for kids who love wildlife. Encounter the natural beauty of St. Thomas from flora and fauna to sunset and island views on this tranquil kayak tour!
Connect with Nature,
Megan
CaribbaConnect Mentioned Excursions: