San Juan Puerto Rico Beaches - A Local's Guide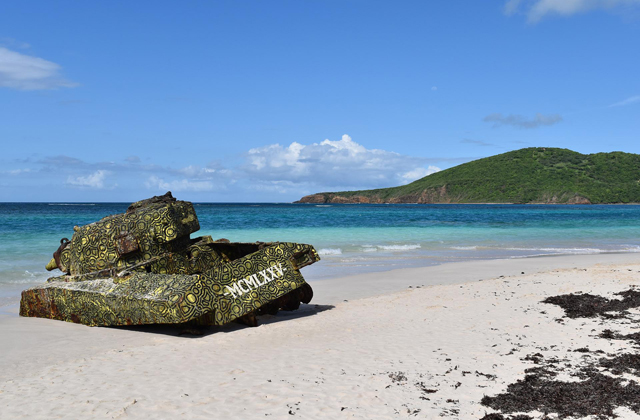 Puerto Rico has 1,200 beaches around the island throughout the 100 x 35, which means that you can get anywhere on the island and return to your point of origin on the same day. Those beaches are full of abundant coral and marine life. While the island has many coves and strips with a tranquil, socially-distanced escape and the only accessible by boat or a hike off.
The island has a lot of beaches, each with their charm, that are easily and available Public Beach Hopping Tours. There are no Private beaches around the island, however, the only one close to being private is the one at the Caribe Hilton Hotel in San Juan. With so many options, Puerto RIco has the perfect Caribbean beaches in a dream and I've got your local guide to find and enjoy that spectacular shore.
North Coast
- The Northside of Puerto Rico is the side of the island where you have to find a lot of islands, typically for tourists. So you can imagine how many sandy beaches there are on it. In the north region, the land area is mostly flat. Some areas have rocks that form natural pools.
Playa Escambrón

- located in Old San Juan, close to the Luis Muñoz Rivera Park. This beach is located 15 minutes by car from the LMM airport. This zone is very popular, because it is near the tourist area of Condado. This spot is perfect to spend a day with family and friends to gather for a day of fun in the sun. This beach is good for snorkeling and exploring Puerto RIco's marine life.
What to expect - Lifeguard, Soft Sand, Parking Lot
Playa Cerro Gordo

- This amazing and family beach is located in Vega Alta. The trip to this beach from San Juan is around 50 minutes. Also, it has camping and picnic areas that can be reserved at low cost.
What to expect - Lifeguard, Soft Sand, Parking Lot, Facilities, Food and Drinks
Playa La Cueva Las Golondrinas -

Las Golondrinas is a hidden beach, located in Manatí. A little tricky to find it, but well worth it indeed. The beach is difficult to walk on, but the cave with swallows is incredible. It is 15 minutes from Playa La Poza de las Mujeres, also in the same town. Once you arrive at La Poza de las Mujeres, you need to climb some rocks and then a concrete stir. After that follow the train that will lead you to this incredible cave. The recommendation is to wear comfortable shoes and bring with you a lite bag. This beach is perfect to spend a relaxing day, either by yourself or friends and family.
KNOW - Depending on the weather, you can find big waves. (Check the weather channel before you go). Also, it is a nudist beach.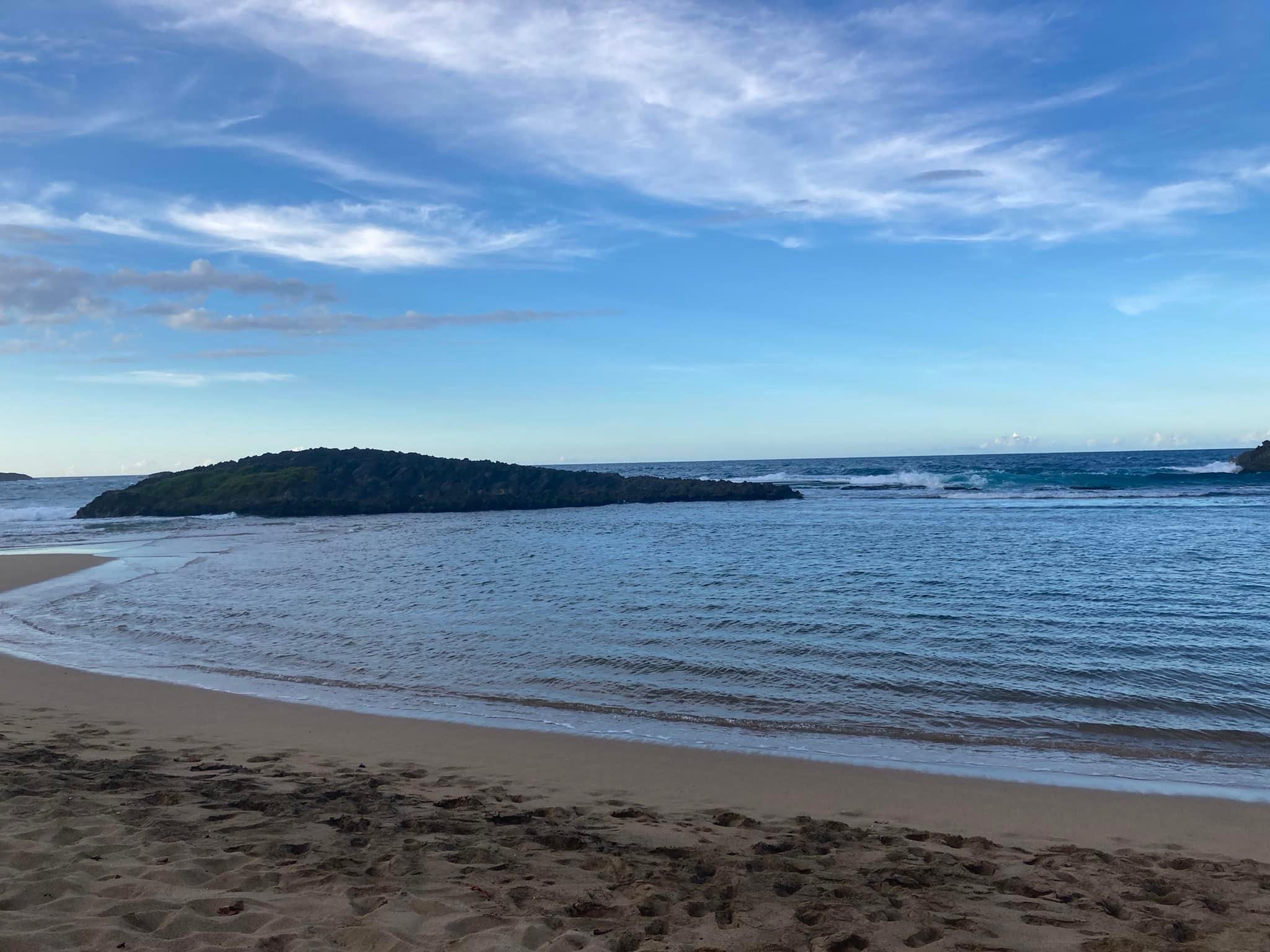 South Coast -
The south of Puerto Rico comprises 11 towns that offer visitors remote beaches nestled up to the calm waters of the Caribbean and marines for boat excursion.
Playa Ventana -

This beach is located at the south of the island, town Guayanilla. This natural beauty is known as Playa Ventana (Beach Window) because in the middle of the rock raised above the sea, there was a hole that gave the sensation of looking at the sea through a window.
What to expect - This beach is recognized for taking pictures, walking, and being relaxed in your vacations in Puerto Rico. The beach is free and has parking available. Enjoy the beauty of this little corner of the island.
KNOW- The natural arch is no longer there, since it collapsed as a result of the earthquake that occurred in Puerto Rico last 2020.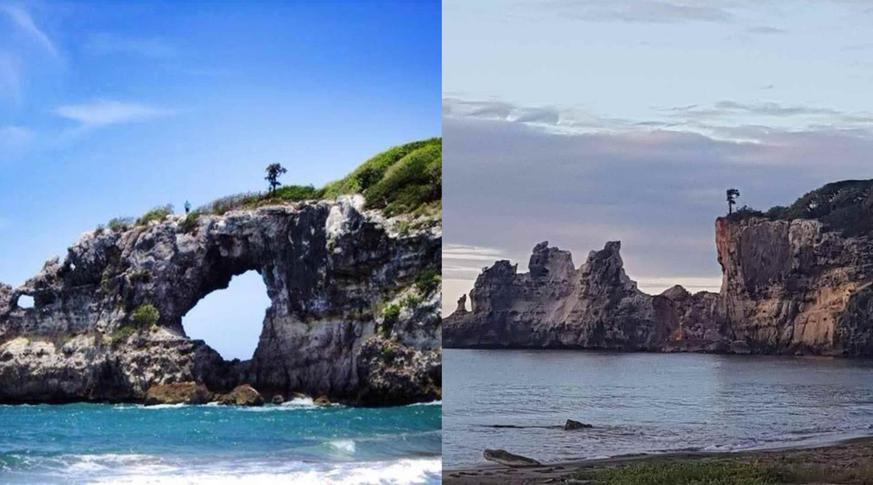 Playa VIlla Pesquera -

Playa Villa Pesquera, located in the southeast of the island is ideal. You enjoy one day of your vacation and play a water sport, such as snorkeling, paddleboarding, kaya, or just swimming in the crystal and calm water. In addition, this bech offers a tourist recreational complex that has colorful swings for the enjoyment of childrens.
What to expect - Facilities, kiosks that sell food, small markets, green areas to make picnics, parking available.
East Coast-
The eastside of Puerto Rico offers exceptional beaches, museums, recognized rainforest, and island tours. This region of 15 towns gives you the opportunity to see panoramic views, visit great museums and botanical gardens. As well as doing roadside chinchorros, and enjoy the gastronomic food.
Playa Escondida

- Located in Fajardo, Playa Escondida is a hidden, quiet and relaxing beach to spend a few hours of your days. To get to this beach, you'll need to walk around 25 minute from Seven Seas beach (Fajardo) through a mangrove forest. There are no strong currents, so you can swim and snorkeling, but my suggestion is to verify the weather before you go. Sometimes there is a hidden tide.
What to expect- Parking lot in Seven Seas beach, soft sand.
Playa Los Bohíos

- This beach is best known for its beach sand, black sand. This beach is very popular for tourists and locals for observation and contemplation of landscapes each year for those who want to explore other areas beyond the capital, San Juan. This spot is perfect to wet your feet and sit and relax to enjoy the day.
What to expect - Black Sand, Surfer beach, No lifeguard, No for swimming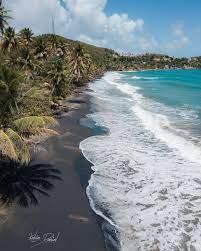 West Coast
- This region of the island is known as "Porta del Sol", is an area full of sun, fun, and adventure. Its beaches are the same, recognized as the best spots to surf, dive, snorkeling, and spend time with the family. The west coast is always a good option for Puerto Rican. Its beaches are perfect for those seeking total isolation and relaxation. You can walk trails along the coast that lead to stunning scenic spots.
Playa Buyé

- This beach located in Cabo Rojo is very popular with locals but also for tourism - for its calm waters, its soft, light beige-colored sand, relaxed and secluded, and most important, their atmosphere is family-friendly. Denifelity, is an immaculate and secluded beach in Cabo Rojo.
What to expect - Parking, kiosks, Soft Sand
Playa Santa

- Playa Santa has a white-sand shore by crystal water and with tall coconut palm trees. It's one of the most popular beaches in Guánica for locals. This beach can be crowded all the time, but especially on Spring Break (April) and a holiday.
What to expect - Parking, Sand Soft, Watersports concessions, kiosk to eat and drink
Hotel Beaches
- While all Puerto Rican beaches are public, the only private beach recognized is at the Hotel Caribe Hilton in San Juan. The water of the beach is warm and calm, and has plenty of umbrellas and chairs for everyone.
Some general tips for visiting Puerto Rico beaches on your vacation is to remember to maintain clean beaches and ecosystem, never bring a foam cooler, bring with you a plastic bag to carry your trash, reapply sunblock, and carry your beach chair.
Puerto Rico is waiting for you!