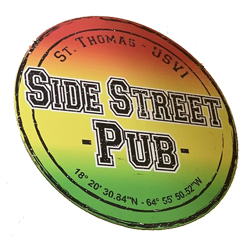 Side Street Pub St. Thomas
Back to All Restaurants
Located in Downtown St. Thomas, at the heart of duty free shopping, Side Street Pub is a hidden family-owned gem.  Their bar and Caribbean drink selection such as the famous Bushwacker or the Pain Killer are just some of the options this famous St. Thomas pub offers.  Don't miss out on the delicious Shrimp Tacos topped with chili mango sauce or the slow roasted juicy pulled pork!
Known for being exceptionally friendly, Chuck and Kim, the owners of Side Street Pub are often found chatting with their guests making sure they are comfortable and enjoying their experience.  Also, a secret unknown to most, while shopping in downtown St. Thomas, you will constantly notice someone delivering drinks to the jewelry stores and the customers rave about them.  Well, these drinks come from none other than Side Street Pub.  So if you want to get a taste of Caribbean flavored drinks or have some delicious food.  Make sure to check out the menu below and plan your stop at Side Street Pub St Thomas.
MORE PICTURES
MENU
DELIVERY OPTIONS
Currently accepting Delivery to the Marriott Frenchman's Cove ONLY
Service Offered on: Monday, Tuesday and Thursday every week
Orders Accepted: 9:30 am - 5:30 pm
Delivery Schedule: 7:00 pm, 8:00 pm
Your order will be delivered promptly for pickup at those times at the front lobby parking lot.
Delivery service fee: $7.50 per order.  Minimum order is $20.00.  Please no tipping.... driver carries no money.
Sorry...No Breakfast Orders.
All orders need to be paid prior to delivery.  Call 340-775-5131.


CONTACT INFORMATION
5130 Trompeter's Gade
Creque's Alley
St. Thomas, USVI 00802
340-775-5131

Opening hours
Mon - Sat: 9:00am to 5:05pm
Sun: Closed
LOCATION
Side Street Pub Directions
SOCIAL MEDIA