The Best Things to Do in San Juan Puerto Rico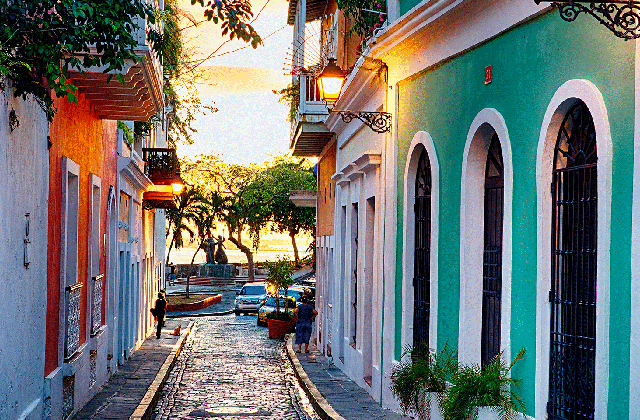 Are you visiting Puerto Rico? There's a lot to do in different parts of San Juan you can enjoy by yourself or in a group, including during the day or in the night. Here, I give ideas on how to make the most of your vacation by visiting the best attractions in Puerto Rico for adults and children. This list below highlights the best things to see and do in La Isla del Encanto!
El Morro in Old San Juan


The principal attraction area is El Morro, a structure that the Spanish finished building around 1790 to protect the city. Definitely you should visit this place. They offer tours and there is plenty of grass around where you and your family and enjoy flying kites. The variety of colors of the Spanish colonial structure along with quiet streets in Old San Juan makes it very charming. El Morro is the most popular place for Puerto Ricans and tourists due to its beautiful landscape, structure and color contrast. Also, if you want to go home with beautiful memorable pictures, this is the place for it!

Visit Fortaleza Street


La Fortaleza Street (means "The Fortress"), is very popular and there you will see the governor's mansion. Visitors are not permitted to go into the palace, however, guided walking tours are offered Monday through Friday between 8:15 am and 3:30 pm. This 30 minute tour will cover the lush gardens and will allow you to venture inside the building when the government is not in session. Identification is required for everyone 21 years of age or older.

San Juan Paddleboarding and Kayak


Condado lagoon provides a relaxing and enjoyable area to enjoy nature. You can either choose a kayak or paddleboard to discover the best of the lagoon on a small-group tour in calm water. If you are lucky, you may find manatees, a peaceful and playful sea creature. It's an exciting and unique experience. There are also night kayaking and stand up paddleboarding tours you can enjoy and the duration of the excursion is 45 minutes on the water and 30 minutes on land.

Cathedral of San Juan Bautista


This is the grandest religious building, the most important in Puerto Rico. In there, you will appreciate the elegant gothic facade that you see today evolved over centuries.

Guided Water Bike Tour in Condado Lagoon


During this water bike tour in Old San Juan Bay, you will learn Puerto Rican history and admire unforgettable coastal views, including the Fortress of San Juan Felipe del Morro. Remember, wear your sunblock, a hat, and comfy clothes. The tour lasts 2 hours and 15 minutes.

Cuartel de Ballajá, the home of the Museo de la Américas


If you enjoy exploring the culture and art of your destination, the museum of Las Américas, located inside San Juan's historic Cuartel de Ballajá (front of El Morro), is a former barracks for Spanish soldiers built in the mid-1800s. This museum includes pieces from North, Central and South America, and explores indigenous populations and colonization of Africa. Another cultural interest stored and exhibited in San Juan, is the contemporary art museum - housed in a brick building. The museum focuses on the second half of the 20th century, from Latin America, the Caribbean and Puerto Rico across its two floors of galleries.

Bacardi Tour


Visit Casa Bacardí and enjoy the tropical experience in rum paradise. In the Bacardi tour you will learn how to taste rum the right way and become a rum maestro! In this tour, you will also have the opportunity to taste the premium Bacardi's rum and to take a fun and interactive class, to create the perfect Mojito. In addition, the tour guy will show you some tricks and skills to make your favorite cocktail with Bacardi's rum. The Bacardí tour lasts 75 minutes and includes a welcome cocktail.

Carabalí ATV Adventure


This adventure exposes you to a beautiful, spectacular scenery of Puerto Rico's east as you go through towering trees, tread, creeks, climb hills, and coast through vast rugged rainforest terrain. This amazing experience lasts one or two hours. During the tour, you have the opportunity to stop at Memeyes River, which comes from El Yunque.

Jet Ski Tour and Boat Rental


In the Jet Ski tour you will see an amazing journey into the best crystal waters of the Caribbean along the beaches of Isla Verde. During the tour, they will have the 90 minutes journey experience that departs from Cangrejeros Yacht Club, Piñones. While you are in this section of Piñones, be sure to stop at a kiosk to eat a good alcapurria, a fritter made of green bananas, taro root with a filling of a meat. Enjoy your meal with a piña colada. After the pure adrenaline of jet skiing, you deserve, for sure, this yummy fried local food!

Whether you have a boat license or not, you are more than welcome to rent a boat in La Parguera, located in Lajas (southwesters of the island) and to different keys. For those without a license, a captain is usually available with the tours you book, so make sure to ask! The most visited cay is Cayo Enrique, the Parguera Nature Reserve. The cays that you find in La Parguera, stand out for its crystal clear waters and white sand which make it perfect for water sports such as snorkeling and diving.

There are several companies that offer tours to spend all day in the cays of La Parguera. These companies offer nightly kayak or boat trips to explore the bay's water.

If you want to go to another popular cay, you should go to Cayo Icacos, often referred to as Icacos Island. It is the largest and most picturesque of the cays. You can only reach Icacos by boat, so you can choose either a water taxi or a catamaran to depart from Fajardo (east of the island). The advantage of the catamaran is that they give you the ultimate experience abroad, where you can enjoy beautiful Caribbean waters and as part of the experience you will enjoy drinks, lunch, and some of them even offer snorkeling gear. On your way to Icacos, which takes around 20 to 30 minutes, sit back and enjoy the ocean breeze. A day trip to Icacos deserves a sunblock, beach umbrella, and a good hat.

Toro Verde Adventure Park


Toro Verde is the largest ecological adventure park in the Caribbean and Americas. Here, you can enjoy beautiful landscapes that will leave you breathless, with a spectacular view of the mountains of Orocovis. You can also spend time experiencing the most exciting tours full of adrenaline to enjoy with friends and family. In the park you will find a lot of attractions to do, but the most popular one is to go to 'The Monster', which is the longest zip line in the world. Followed by 'The Beast', then the Zipline tour, which includes eight regular ziplines, each longer and higher than the previous one. Oh my God! Enjoy the adventure, adrenaline, and entertainment!

Beaches


Puerto Rico has the prettiest beaches! In the north of the island and with a good atmosphere are Isla Verde Beach, Ocean Park Beach, and Condao Beach to go with friends or family. On the west and southwestern coast, the beaches in Rincón, Aguadilla and Cabo Rojo offer the best experiences for surfing, whale watching, and sightseeing.
Hope you have a great time in San Juan and enjoy the best things to do in San Juan, Puerto Rico!