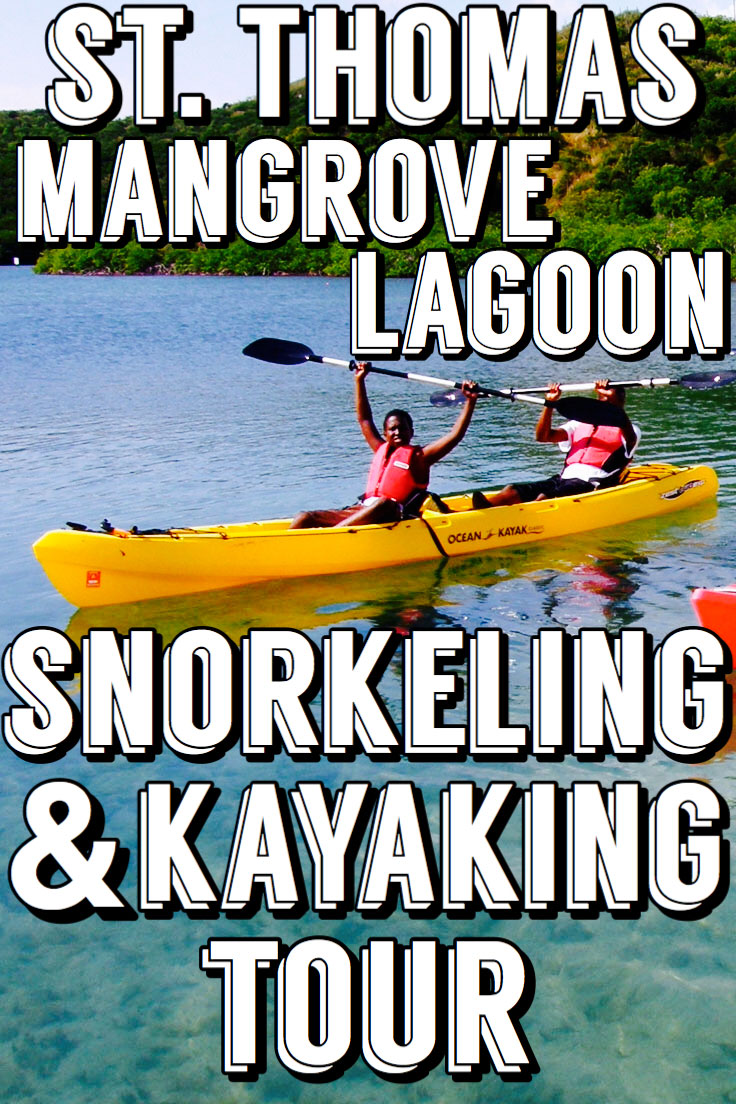 St. Thomas Mangrove Lagoon Snorkeling and Kayaking Tour
Overview
Snorkeling and kayaking lovers will enjoy this spectacular water-focused tour of the Mangrove Lagoon in St. Thomas.
Nature guides kayak with you through the protected Inner Lagoon Marine Preserve as you pass between the many beautiful manglar islands that are made up of red mangroves. Many birds nest in the trees, such as the endangered brown pelican, blue herons, night herons, egrets, yellow warblers, hummingbirds, and many more. Juvenile fish hide among the many roots of the red mangrove trees. Paddlers glide in clear shallow water and often see southern sting rays and spotted eagle rays gliding beneath them with an occasional show of one jumping into the air.
Next you will arrive at the southernmost tip of St. Thomas where a fringing coral and shell rubble barrier reef divide the crystal clear waters of the lagoon and the Caribbean Sea. Snorkel a coral-fringed mangrove nursery with an easy snorkel, perfect for beginners, in the clear, protected waters. Guides offer snorkeling instruction, point out the marine life, and interpret the diverse mangrove ecosystem.
TOUR VARIATIONS:
St. Thomas Mangrove Lagoon and Cas Cay Ecotours - 3 Hrs
Ecotour and Lunch - St. Thomas Mangrove Lagoon and Cas Cay - 5 Hrs
SIMILAR TOURS:
St. John Eco Hiking and Snorkeling Tours - 3 Hrs
Caneel Bay St. John Kayak, Hiking, and Snorkeling Tours - 3 Hrs
Henley Cay St. John Kayaking and Snorkeling Tours - 3 Hrs
Caneel Bay and Henley Cay Ecotours with Lunch - 5 Hrs
Duration: 2.5 hours
Adult: $69
Child (7-12yrs): $39
Child (2-6yrs): $0
Highlights
Kayaking and snorkeling tour of Mangrove Lagoon and the Inner Lagoon Marine Preserve
Snorkeling and kayaking with expert instruction and interpretation by our guides
Breathtaking, scenic views and exploration of spectacular ecosystems and uninhabited islands
Opportunities to observe and encounter marine and island flora and fauna
Snorkeling gear, kayaks, paddles, and life jackets included
Free lockers and beverages and snacks provided
Outstanding, friendly service from our professional eco guides
Important Note: Don't Wait to Book!


Tours and activities in St. Thomas and St. John fill up quickly and often weeks or months in advance.  Don't wait and miss out on the fun!  Book now to reserve your space and avoid disappointments or last-minute scrambles. If you need to cancel for any reason, we'll give you a full refund on most tours as long as you cancel at least 24 to 48 hours in advance. Check the bottom of each tour or activity description for cancellation terms. We want you to enjoy the best of our beautiful islands, so make your reservation now!


Before You Book
Bring clothing that can get wet and a hat, sunglasses, etc. for sun protection
Bring a bathing suit and towel
Bring watershoes or sandals w/ a strap around the heel recommended
Your payment is 100% refundable until 24 hours before the date and time of your departure
Cancellations within 24 hours or a failure to show up for your tour will result in a full charge for the cost of your tour
Itinerary
Departure point: Mangrove Lagoon Marina, St. Thomas, U.S. Virgin Islands (Please arrive 15 minutes prior to your tour)
Departure time: Based on your reservation
Duration: 3 hours
Return information: You will return with your guide to Mangrove Lagoon Marina, St. Thomas.
Important Information
Inclusions
Multi-eco adventure with kayaking and snorkeling
Professional instruction and interpretation by an experienced eco guide
All safety, snorkeling, kayaking equipment, and life jackets included
Free lockers, dressing room, and toilet facilities provided
Beverages and snacks included
Exclusions
Gratuities for excellent service not included (15-20% recommended)
There may be an option to purchase a photo CD if a photographer accompanies your tour. If photos are available, the entire collection will be available on a CD for $45. Includes an additional CD with "Best of" pictures collected over the past decade.
Tour store offers:

Sunglasses: $10-20
T-shirts and wet/dry performance shirts (long and short-sleeved): $25
Water shoes: $20
Hats and caps: $15 and up
Sunscreen: $15
Sunglass straps: $5
St. Thomas refrigerator magnets: $5
Coconut shell and carved bone necklaces: $5
Shell and shark tooth necklaces: $10
St. Thomas beach towels: $20
Assorted stuffed Caribbean animals: $15 and up
Additional Info
Directions:
Our main marina is located on the southeast side of St. Thomas.
From Town:  Take route 30 East until it intersects with route 32 (also the Bridge to Nowhere/Esso Station), turn right -southeast- and we are located on the right side of the road. We're the big green trailer with the mask and snorkel on the side.
From Red Hook:  Head southwest on route 32 towards town, we are located on the left side of the road We're the big green trailer with the mask and snorkel on the side.
Cancellation Policy
Your payment is 100% refundable until 24 hours before the date and time your tour is due to depart. If you cancel your booking with less than 24 hours' notice or fail to show up for your tour, then no refund will be given.