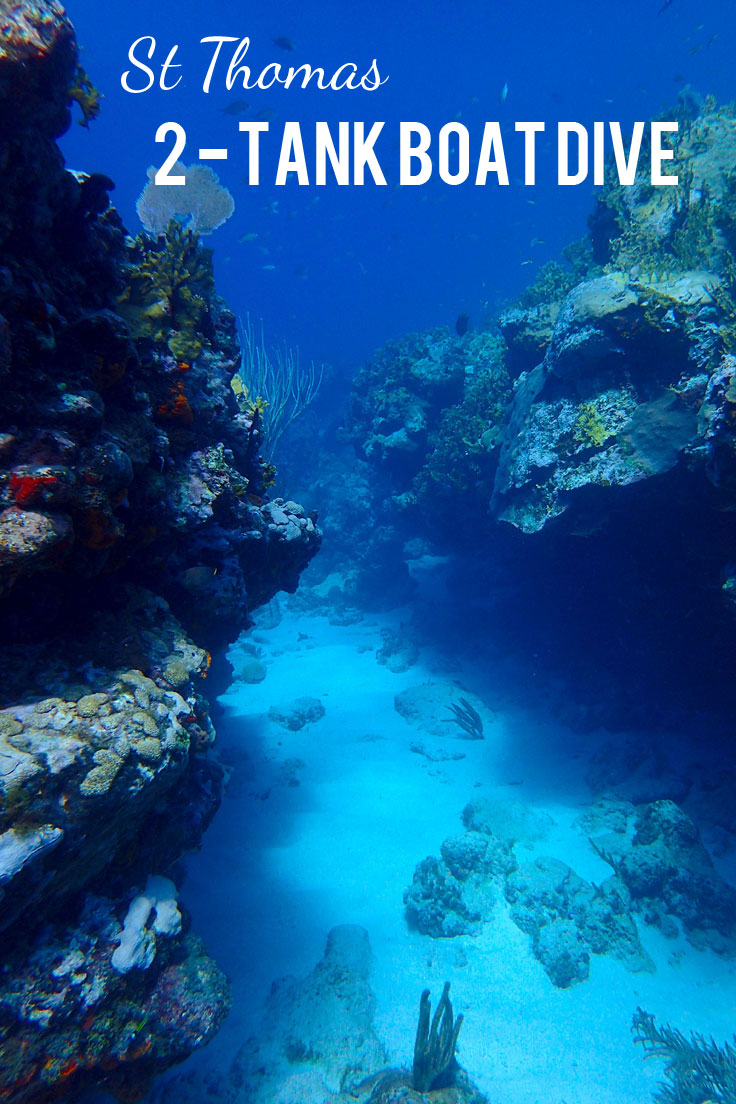 Scuba Diving St. Thomas: 2-Tank Morning Boat Dive
Overview
Explore the best dive sites ST Thomas has to offer with a scuba diving adventure for certified divers only. Depending on conditions and interest of divers, visit a shipwreck, ancient volcanic lava tubes, undersea ledges, or lush coral reefs teeming with colorful fish and marine life!
NOTE: You must show proof of either an Open Water Diver Certification or a Scuba Diver Rating. Don't forget to bring your certification card!
Leaving from our dive shop located at Coral World in northeast St. Thomas, your boat captain and certified PADI Dive Master will match our dive sites with your diving abilities and interests. Flexibility and safety are our top priorities!
A perfect small-group dive for up to six certified divers, this tour offers a number of great dive locations and opportunities to explore underwater landscapes, coral reefs, and encounter sea turtles, stingrays, and beautiful spotted eagle rays.
This is a morning 2-tank boat dive with access to some of the top diving destinations on northeast and southeast end of St. Thomas. This is one of the most spectacular diving areas in all of the U.S. Virgin Islands and the Caribbean.
Ask you dive master about pictures of you dive being available for purchase.
This boat dive is for certified divers who have dived recently. If it's been a while since your last dive, we recommend booking a beach dive first, to refresh your skills.
Rinse buckets are available if you bring your own gear, and there is a place to store your gear bags and valuables during your dive.
If you've heard about the amazing diving off St. Thomas and want to experience it yourself, or you want to return for another thrilling dive, this tour is the perfect opportunity.
Spaces are limited for this ideal small-group tour, so make sure to book your boat dive now!


SIMILAR TOURS:
Scuba Diving St Thomas: 1-Tank Afternoon Boat Dive
Coki Beach Scuba Dive in St Thomas
Coki Beach Night Scuba Dive in St Thomas
PADI Discover Scuba Diving in St Thomas


Highlights
•    St. Thomas 2 tank scuba diving tour and boat dive for certified divers
•    2-tank Morning dive at 2 different dive locations
•    Possibly explore a shipwreck, lava tubes, undersea ledges, or coral reefs depending on sea conditions
•    Encounter colorful fish, corals, and other marine life
•    Get a chance to see sea turtles, stingrays, and spotted eagle rays!
•    All scuba gear included, or bring your own (wetsuit rentals available)
Important Note: Don't Wait to Book!


Tours and activities in St. Thomas and St. John fill up quickly and often weeks or months in advance.  Don't wait and miss out on the fun!  Book now to reserve your space and avoid disappointments or last-minute scrambles. If you need to cancel for any reason, we'll give you a full refund on most tours as long as you cancel at least 24 to 48 hours in advance. Check the bottom of each tour or activity description for cancellation terms. We want you to enjoy the best of our beautiful islands, so make your reservation now!


Before You Book
•    You must be a certified diver with proof of Open Water Diver Certification or a Scuba Diver Rating
•    After you dives, it is recommended you wait at least 18 hours before flying
•    Wetsuit rental not included ($5 per person)
•    A parent or guardian must sign for anyone under 18 years old
•    We reserve the right to refuse anyone diving or snorkeling gear


Itinerary
Departure point: Coki Dive Center just after Coki Beach at Coral World Marine Park, northeast St. Thomas. If you are driving make sure to ask us for a parking pass for your car. If arriving by taxi ask your driver to drop you at Coral World just after Coki Beach. We are located on the left as you enter their parking lot.
Departure time: Varies based on your reservation. Typically 9: am.
Duration: 3.5 Hours
Return information: Coki Dive Center, Coral World, northeast St. Thomas
Important Information
Inclusions
•    2-tank scuba dive off northeast St. Thomas
•    PADI-certified instructor and boat captain
•    Boat transportation
•    All scuba diving gear (wetsuit rental not included: $5 per person)
•    Water and light snacks provided

Exclusions
•    Wetsuit rentals (if needed) are $5 per person
•    Gratuities for excellent service not included (15-20% recommended)
•    Ask your dive master about pictures of  you dive being available for purchase


Additional Info
Our buoyancy compensators are weight-integrated.

Cancellation Policy
Your payment is 100% refundable until 24 hours before the date and time your tour is due to depart. If you cancel your booking with less than 24 hours' notice or fail to show up for your tour, then the full cost of the tour will be charged to the credit card used to guarantee your tour.