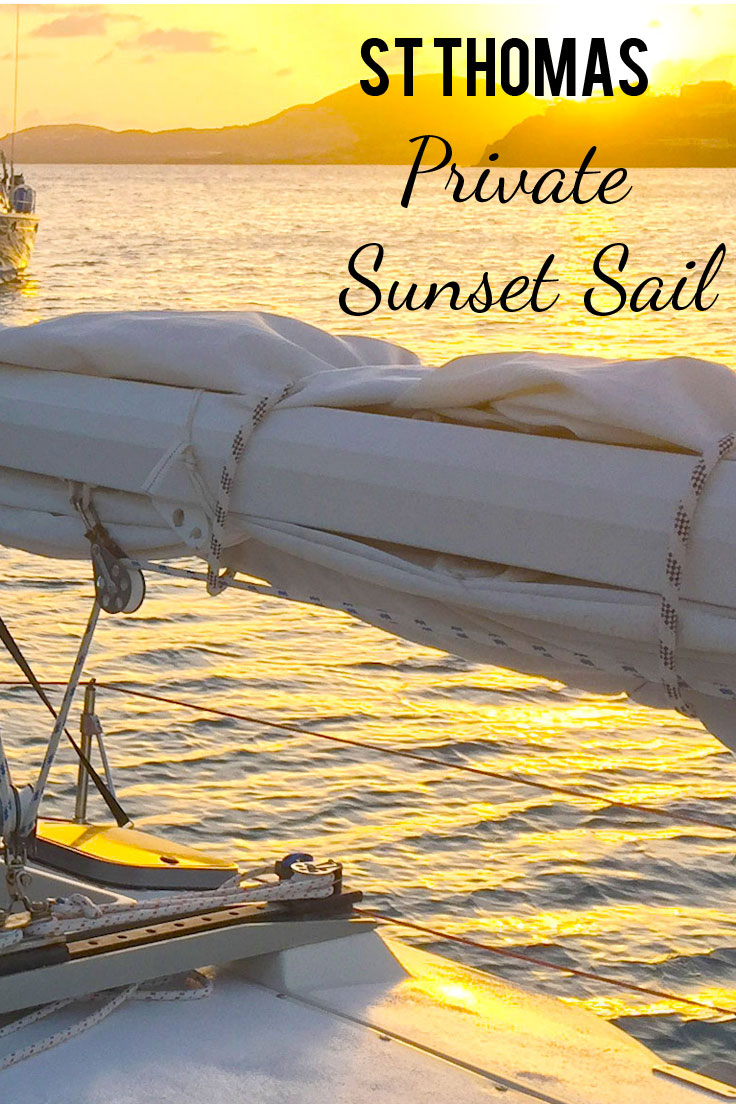 Private Sunset Sail in St. Thomas or St. John
Overview
Enjoy the perfect outing during your Caribbean vacation with a romantic sunset cruise. Board our 37-foot-long sailboat for a relaxing and smooth ride through the tranquil waters around the U.S. Virgin Islands. Stop in the perfect photo spot anchored in the pristine waters for a night to remember. Feast on bubbly champagne and delectable hors d'oeuvres. Watch as the sun sets over the ocean in a display of beautiful colors. Capture the moment with photo opportunities with your loved one. Enjoy a quiet and peaceful ride back to dock through the still water. Be on the lookout for some of the Caribbean's most beautiful ocean life as you make your way back to your departure point. Book your sunset cruise now for the most memorable part of your vacation.
Duration: 2 hours
Maximum Passengers: 2 people (additional fees for more guests)
Cost: $380 private charter (for 2 passengers) / $30 (for any additional person)
Highlights
Relax with this romantic sunset sail around the U.S. Virgin Islands
Make your way through the tranquil Caribbean waters
Take in the magnificent views of the sunset over the water
Enjoy a private charter for just you and your loved one
Pamper yourself with champagne and hors d'oeuvres
Open bar including water, soft drinks, wine, beer, and signature drinks
Snap pictures of setting sun or ask your captain for the perfect photo-op
Relax, listen to music, and get to know our first mate, Pedro the Boat Dog
Explore the beautiful islands and ocean life while sailing
Travel in style on our 37-foot-long sailboat
Important Note: Don't Wait to Book!


Tours and activities in St. Thomas and St. John fill up quickly and often weeks or months in advance.  Don't wait and miss out on the fun!  Book now to reserve your space and avoid disappointments or last-minute scrambles. If you need to cancel for any reason, we'll give you a full refund on most tours as long as you cancel at least 24 to 48 hours in advance. Check the bottom of each tour or activity description for cancellation terms. We want you to enjoy the best of our beautiful islands, so make your reservation now!


Before You Book
Charters meet at the Compass Point Marina, St. Thomas and in Cruz Bay on the Beach in front of High Tides restaurant, St John
Please accommodate any special drinks or snacks you may need
Ask about special times and accommodations for cruise ship guests
Dress comfortably for an evening of sunset gazing and sailing
Once you receive your booking confirmation, please notify the charter of any dietary restrictions such as allergies, not eating seafood, or vegan requirements.
If you would like to bring your own pet, please contact us in advance after you receive your confirmation
If you prefer that our dog not be on board, please request this in advance
Notify the crew of transportation needs from your hotel or accommodations to the dock
Ask the crew about times and dates for cruise ship guests
Arrive at the dock at least 15 minutes before scheduled departure
Itinerary
Departure point: For St. Thomas Compass Point Marina, Fr St. John In Cruz Bay on the Beach in front of High Tides restaurant
Departure time: 5:00 PM
Duration: 2 hours
Return time: 7:00 PM
Important Information
Inclusions
2-hour sunset sail around the USVI
Champagne and hors d'oeurvres while anchored
Open bar including water, soft drinks, wine, beer, and signature drinks
Photo opportunities and pictures of the sunset and guests
Relaxing music and stereo system for romantic sails
Exclusions
Gratuities for the captain and crew not included in the price
Additional Info
Please arrive for your charter at least 15 minutes prior to your departure time. Please notify the crew of any non-swimmers in your party before leaving the dock. Contact us prior to leaving for the charter for help with taxi service or directions. Please contact your charter after your booking to notify the crew of any dietary restrictions, such as allergies, not eating seafood, or vegan restrictions. Also notify the crew of any transportation requirements to or from your hotel or accommodations to the dock.
Cancellation Policy
For any cancellations at least 24 hours before the departure date a full refund will be granted.